London's Finchley neighbourhood, the heart of the city's Jewish community, now hosts a clothing store associated with Europe's Neo-Nazis.
Thor Steinar, the favoured brand of extreme right wingers in Germany, has opened a shop in north London called the Viking Thor Shop.
Jewish and Islamic groups in the multicultural suburb have expressed concerns that the shop will attract far-right supporters and inflame tensions, but there are additional fears shoppers may be oblivious of its right-wing roots.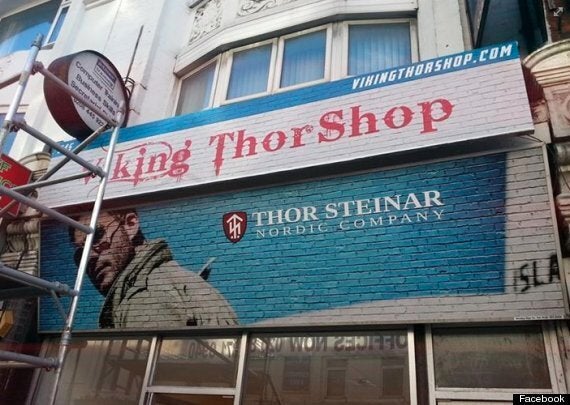 The shop has been operating from Ballards Lane in North Finchley since late last month, bringing clothing heavily associated with European far-right street movements to the UK, Channel Four reported.
The arrival of the shop was welcomed by the white power website Stormfront, where users gleefully posted that "London gets its first white nationalist clothing shop". A number of users pledged to visit the store.
One poster responded: "I hate north London. It's full of Jews", while a number of users made comments about shooting Jewish people.
But the store's manager has denied any neo-Nazi associations and claims he is simply selling leisurewear.
The Thor Steinar brand has faced bans in the German Bundestag and in several football stadiums.
Eight members of the far-right German National Democratic Party were expelled from Saxony's state parliament in 2012 for wearing the brand's T-shirts, which display themes popular with neo-Nazis.
Its clothes were banned outright in Germany in 2004 because of the logo's similarity to symbols worn by the Nazi SS – but the company has rebranded since then.
The company infamously opened a shop called Brevik in Saxony and was accused of naming the store after far-right mass murderer Anders Behring Breivik.
While the company claims it is not owned by the far right, reports in the German press have repeatedly indicated the clothing was created from the far-right scene in east Germany.