When Tommy Cooper died on stage 30 years ago this week, it was the beloved comic's trademark express - 'Just like that' - his bright red fez, his huge black shoes and general buffoonery, that his many fans queued up to celebrate, and remember still.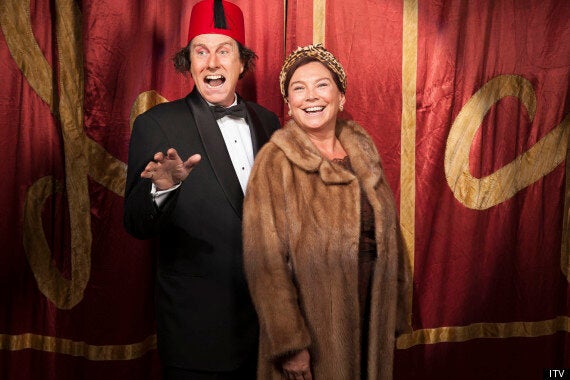 David Threlfall as Tommy Cooper, with Amanda Redman as his wife Gwen
But there was another side to the stage and screen star, a troubled personal life that strived to accommodate a wife and longtime mistress and demons within the man that reportedly manifest themselves in alcohol problems and domestic violence, and it is this side that is being explored in a new two-hour biopic film being broadcast on Monday evening on ITV.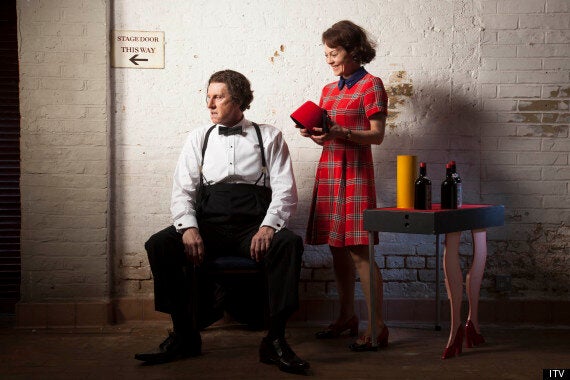 Helen McCrory plays Tommy's longtime mistress, and personal assistant, Mary Kay
The script is written by 'Men Behaving Badly' creator Simon Nye, who has admitted he had "reservations" about exploring the troubled personal life behind Tommy Cooper's talent, which involves one scene showing the star punching both his wife in the street, and giving his mistress a black eye when she attempts to bring him home from the pub.
But producers had the cooperation of both Mary, whose affair with Tommy Cooper lasted 17 years and who died during the making of the production, and her son.
Simon Nye tells the Mirror: "I went to see Mary before she died and she and her son were very sweet.
"Her son took me to one side and told me she was bruised. It's on record, it's not something we invented.
Cooper's daughter Vicky was also consulted about the film, but it's not going to please everyone. Tudor Jones of the Tommy Cooper Society, told the Mirror the film is "somebody's version of what they think happened".
Amanda Redman says, "It doesn't detract from what he was to the public – one of our greatest comedians."
'Not Like That, Like This' is on Easter Monday evening at 9pm on ITV.
Popular in the Community