The 'Peaky Blinders' actress tells HuffPostUK, "People can become successful in projects that you might just think 'Ewww', and unfortunately not everyone has the same taste, so what you might think is bloody awful, everyone else might think is terrific. So I'm very proud."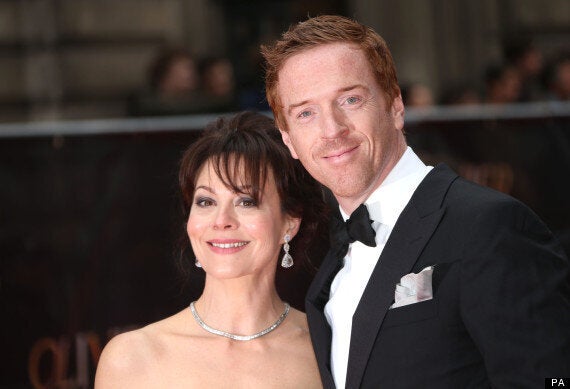 Helen McCrory with husband Damian Lewis, of whom she is "very proud'
McCrory, as smart, bright and engaged to speak to off-screen as any actress I've come across, is having her own golden time career-wise, with her 'Peaky Blinders' role coming on top of appearing in 'Skyfall', Martin Scorsese's 'Hugo', the Harry Potter series and a recurring role of Cherie Blair in Peter Morgan's series, including 'The Queen'.
"We're very lucky that it happens to be in sync, the chances of that are extraordinary," McCrory admits.
Her latest role sees her as feisty Aunt Polly Gray, in Steven Knight's drama set in the dank alleyways of Birmingham, full of characters picking up the pieces after the First World War - a high quality drama already drawing comparisons with 'Boardwalk Empire', and something the actress is evidently very pleased to be part of...
"Steven's script is completely original, we haven't seen these people before, or this period of history," she says.
"This is a western, accompanied by the White Stripes and Nick Cave, all seen through a little boy's eyes, who wanted to be a gangster when he was nine. The men are big and the women are beautiful. I'm incredibly proud to be in it.
McCrory admits it's made her ask questions of this time in history that hadn't occurred to her previously...
"What was it like for those men to come back from the trenches, when there was no psychiatry for men with post-traumatic stress disorder? What do you do with a generation of church goers who've seen what they've seen, what do you do with the women who've been working in a factory and then forced to go back into their homes, or children who've never been told smoking was bad?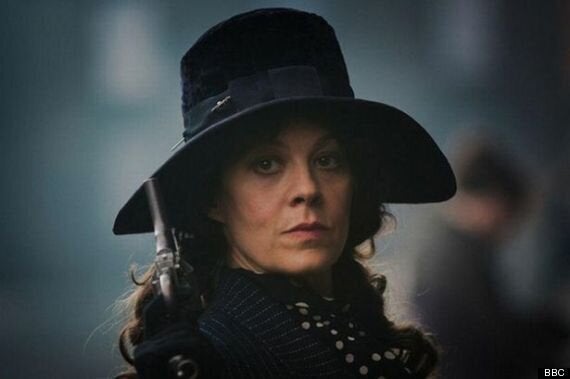 Helen McCrory as Aunt Polly Gray in 'Peaky Blinders'
"So you have this anarchy and this new Wild West feel on the streets, as well as the rise of Communism fuelled by the war.
"We now know as we're not living in the Communist UK, but they didn't know then, it was a real fear. It's a really interesting part of British history."
As well as great opportunities on screen, McCrory's raised profile alongside her husband's has led to what she describes as "surreal" encounters with the great and the good, most notably their invitation to dinner at the White House with the Obamas when David Cameron visited Washington.
"More surreal than walking across the portico and being introduced to the President and his wife was then being asked to sit at table with them," McCrory remembers, before mentioning a list of other luminaries they have met in the last few years.
"And you realise these are charming, charismatic, fascinating people that are wonderful company. In the last few years, I've done a lot of listening."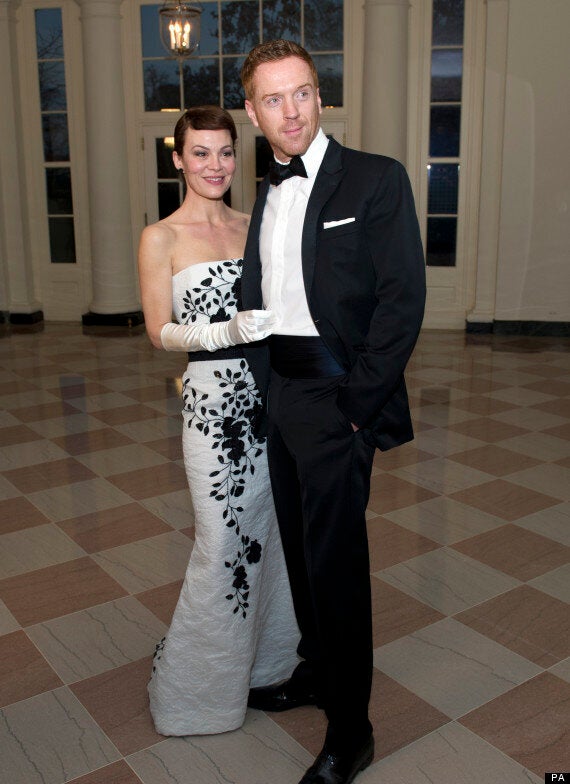 Helen McCrory and Damian Lewis at the White House for dinner in 2012
So that's the good stuff - is there any bad stuff? McCrory pauses to stir her tea, and consider the increased attention she gets when she's simply spending time with her family, most recently on a trip to Trafalgar Square to see "the bright blue cock - which my daughter was very disappointed to see wasn't a real one"...
"The only downside is the invention of the mobile phone camera," she finally decides.
"It's everywhere. I'm very unaware of it, and I refuse to be aware of it because I think that it would bring you into such an altered state of awareness that you'd become neurotic, not useful as an actress.
Plus, it's to do with how people change with a camera. We were at the Met Ball listening to Blondie, and we were at the front pogoing, and we were surrounded by people all recording it on the phone, instead of experiencing it. I can only think it's a terrible thing."
Popular in the Community