'Sex And The City' protagonist Carrie Bradshaw once said that the most important thing when getting through a break-up was to remember, "you'll never get through it without your friends", an approach Gwyneth Paltrow is clearly taking following her split with Chris Martin.
Gwyneth and the Coldplay singer announced through a blog on her lifestyle website Goop that they had decided to separate - or 'consciously uncouple' as they described it - after a decade of marriage.
We're pleased to report that rather than moping around in her pyjamas with a tub of Ben & Jerry's and a special edition DVD of 'He's Just Not That Into You', Gwynnie is taking her break-up head on and having some fun with her celebrity friends.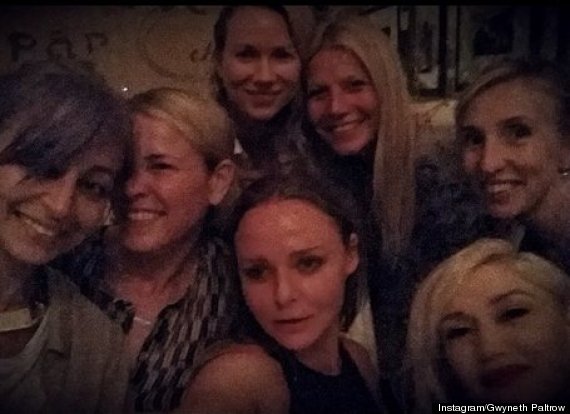 #GirlsNight, indeed!
She shared this all-star selfie on her official Instagram page - along with the hashtag #girlsnight - on Friday, putting all other nights out to shame.
Among the stars posing with Gwynnie in the snap included fashion designer Stella McCartney, singer Gwen Stefani and Nicole Richie.
Talk show host Chelsea Handler and actress Naomi Watts were also in the selfie, which even gave Ellen DeGeneres a run for her money in terms of A-listers.
Following her split from Chris, Gwyneth was forced to deny rumours that she'd been unfaithful after a photo emerged where she appeared to be kissing her ex-boyfriend, Donovan Leitch.
She later posted another blog on Goop where she thanked fans for their support following her decision to end her marriage.
Meanwhile, it's been reported that Chris is planning on returning to London following his split from the actress, who will remain in LA.
The pair have one son and one daughter together, nine-year-old Apple and seven-year-old Moses.
href="http://www.facebook.com/HuffPostUKEnt"target="_hplink">LIKE US ON FACEBOOK

| FOLLOW US ON TWITTER