A poster campaign that photoshopped a red g-string onto a rabbit has been criticised by animal rights activists for "sexualising" animals.
The advertisement was an Easter promotion for the St-Jakob-Park shopping centre in the Swiss city of Basel, promoting that a new branch of the Italian Intimissimi chain was opening.
The picture showed a subversive "bunny girl", with the red underwear photoshopped onto a bunny rabbit.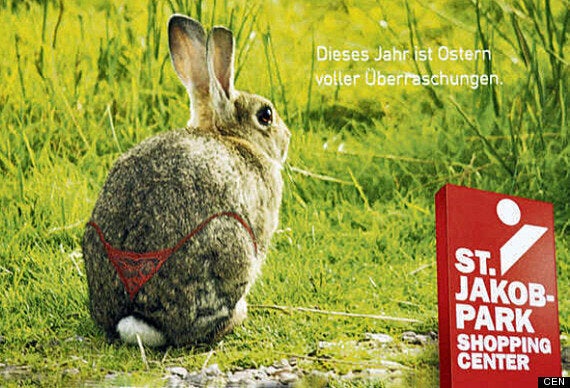 The offensive poster campaign for the shopping centre
The manager of the centre told Central European News that they felt that attractive women at Easter with bunny ears and fluffy tails were so common that they wanted to do something different, and so they came up with the idea of using a real bunny girl.
Daniel Bader from the Basel animal protection group told Tages Anzeiger: "From our point of view, the respect of the rabbit has been badly damaged.
"This is a clear sexualisation of an animal. As far as I'm concerned, it heads in the direction of bestiality and it stinks of promoting animal sex and the sexual abuse of animals."
Swiss PR expert Klaus J. Stoehlker said in his view the image was offensive to the lingerie company: "From my point of view, if I was the boss of that Italian lingerie company I would take action over this advertising, I mean, who wants to see their sexy underwear stuck on such a fat rabbit backside?"
Related