South Korea's President Park Geun-hye has accused the captain and some crew members of the sunken Sewol ferry of committing "unforgivable, murderous acts".
At a cabinet briefing about the tragedy, which left more than 300 people dead or missing, she said the captain and crew "told the passengers to stay put but they themselves became the first to escape, after deserting the passengers."
"Legally and ethically, this is an unimaginable act," Park continued.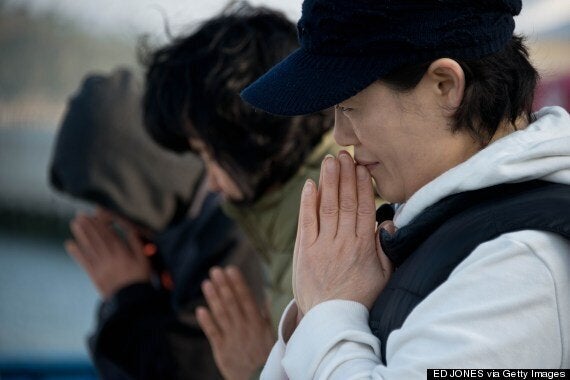 Relatives attend a prayer session at an area where family members of victims of the South Korean ferry 'Sewol' are gathered
The ferry Sewol captain is believed to have told passengers to stay in their rooms below deck, waiting more than half an hour to issue calls to evacuate. Around 240 of the passengers then became trapped inside the boat because it had tilted so far over.
Those who are to blame would have to take "criminal and civil" responsibility for their actions, Park said.
There were 476 people on board the ferry - including 339 children and teachers on a school trip. More than 200 are still missing, with 64 confirmed dead.
It has emerged that captain Lee Joon-seok, who has been blamed by many for the delay in responding to the sinking ship, had appeared in a promotional video touting the safety of the ferry. He faces five charges, on suspicion of negligence and abandoning people in need.
"I think (a ferry) is safer than any other public transportation – as long as you follow the instruction of our crew," a smiling Lee dressed in his captain's whites says in the video.
A second video has also been released Monday, showing Lee receiving medical treatment as he is rescued from the stricken ship.
Senior prosecutor Ahn Sang-don has said four more crew members - two first mates, one second mate and a chief engineer - have also been detained on similar suspicions.