Schools are to face widespread disruption after teachers voted to stage further strikes, starting with a national walkout in the summer, in a bitter row over pay, pensions and conditions.
The National Union of Teachers (NUT) vowed to step up their campaign of industrial action at their annual conference in Brighton.
Delegates backed a priority motion which calls on the union to co-ordinate national strike action in the week beginning Monday, June 23, if "significant" progress is not made in resolving the long-running dispute.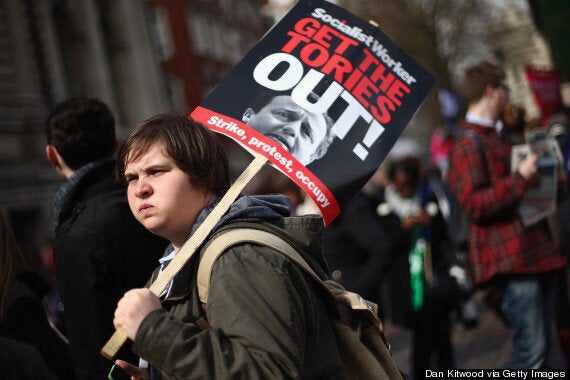 People hold banners at the end of a rally outside the Methodist Central Hall during a one-day walkout by teachers across England and Wales on March 26
The NUT has said it would not rule out more than one day of strikes, and the resolution also left the door open for further action in the autumn.
The move leaves hundreds of thousands of schoolchildren across England and Wales facing the prospect of school closures and disruption to lessons.
The Department for Education has previously condemned the union's strike action, saying it disrupts families and holds back children's education.
Ian Murch, a member of the union's executive, described Gove as "a parody of an Education Secretary", saying: "We need a secretary of state who believes in treating teachers properly and respecting their professionalism."
"Michael Gove, the man with a mad idea for every occasion. Michael Gove, the demented Dalek on speed who wants to exterminate anything good in education that's come along since the 1950s.
"Michael Gove, the man who says he wants to set schools free and then sends in the Spanish inquisition."
"We are here to do the public a favour, to make sure Michael Gove's days are numbered. Michael Gove you have to go."