The confirmed death toll from the South Korean ferry that capsized last week has risen to 121, as divers recovered more bodies.
The ferry, which had 476 people including many school children aboard, sank on Wednesday but another close to 200 remain missing, the BBC reported.
Seven crew members have been detained amid criticism of their alleged failings in evacuating the passengers as the ship listed.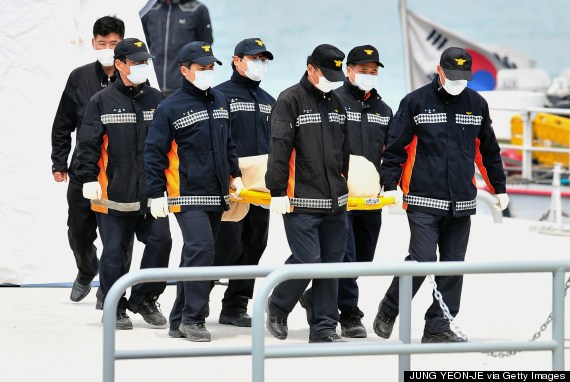 The recovery of more bodies has sent the confirmed death toll rise to 104
Earlier, South Korea's President Park Geun-hye accused the captain and some crew members of the sunken Sewol ferry of committing "unforgivable, murderous acts".
At a cabinet briefing about the tragedy, she said the captain and crew "told the passengers to stay put but they themselves became the first to escape, after deserting the passengers."
"Legally and ethically, this is an unimaginable act," Park added.
On Easter Sunday, families of those aboard the sunken South Korean ferry have clashed with police as they tried to stage a symbolic march to Seoul to protest the slow recovery operation.
Police stopped up to 100 people trying to leave Jindo island, where many relatives have been since the ship capsized awaiting news, intending to march to the country's capital.
Some chanted "the government is the killer" during the clash.
The cause of the sinking is still unclear. The BBC reported investigators were focusing on whether it took too sharp a turn before it started listing. They are also looking at whether an quicker evacuation order could have saved lives.