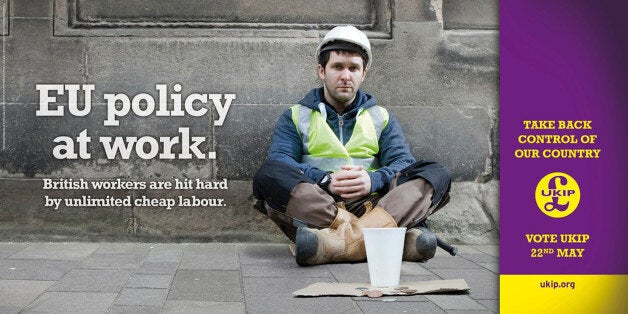 Ukip's election campaign posters have been attacked as "divisive,offensive and ignorant" by a veteran Conservative MP.
To be displayed at hundreds of billboard sites across the country, the Ukip posters carry stark warnings that "British workers are hit hard by unlimited foreign labour".
Another says that 26 million people in Europe are looking for work, adding by a picture of a finger pointing at the reader "and whose job are they after?".
Under the slogan "take back control of our country", others complain that 75% of British laws are made in Brussels and that UK taxpayers fund the "celebrity lifestyle" of EU bureaucrats.
On Tuesday morning Mid Sussex MP Nicholas Soames, the grandson of Winston Churchill, tweeted: "At a time when our country really needs to come together, the Ukip advertising campaign is deeply divisive,offensive and ignorant."
Yesterday Tory peer Lord Debden also said the poster campaign showed "Ukip stands for the worst in human beings: our prejudice, selfishness, and fear".
And Labour MP Mike Gapes has attacked the posters as "racist". Writing in the New Statesman today, he said: "The policies of the nationalist right, whether of Ukip here or Le Pen or Wilders, are a threat to the future harmony of our country and also to the future harmony and prosperity of the EU. That is why all British, Commonwealth or European citizens living in this country should make sure they are registered to vote, and vote to defeat the Ukip extremists on 22 May."
Speaking on ITV's Daybreak this morning, Nigel Farage said Ukip was "standing up and speaking for ordinary people" and said the poster campaign used "very cool and calm language".
"We are a non-sectarian non-racist political party," he said. "We are not against anybody from any part of the world. But to have an open door to 485 million people from the rest of Europe, many from poor countries, many from countries where youth unemployment rates are as high as 60%, means there is an influx of foreign labour into Britain, the likes of which we have never seen, and it is working families in Britain who have paid a huge price for that over the last 10 years."
Cardinal Vincent Nichols, the leader of the Catholic Church in England and Wales, called today for an end to "alarmist" rhetoric on immigration. He did not refer to any party in comments to the Daily Telegraph, but appealed to all sides to celebrate the contribution of immigrants rather than "anger and dismay".
"What I would appeal today is that the debate about immigration is done with a sense of realism and a sense of respect - and that it is not cushioned in expressions which are alarmist and evocative of anger or of dismay or distress at all these people coming to this country," he said.