A housing association in Wales appears to have written to its tenants offering them a free creme egg for enduring the extra cost of the so-called bedroom tax.
A photo of the letter, posted to Twitter, shows housing association Valleys to Coast writing to tenants thanking them for their "efforts to pay this shortfall".
The letter said: "The bedroom tax was introduced just over a year ago and Valleys to Coast Housing would like to thank you for efforts to pay this shortfall.
"V2C understand that this has been a challenging time and wants to recognise your payment efforts"
The letter then promotes weekly walk-in sessions with their money team for tenants and adds: "As well as thanking you by letter, we would also like to offer you, as a small thank you, a free Creme Egg should you call into the office during the month of April."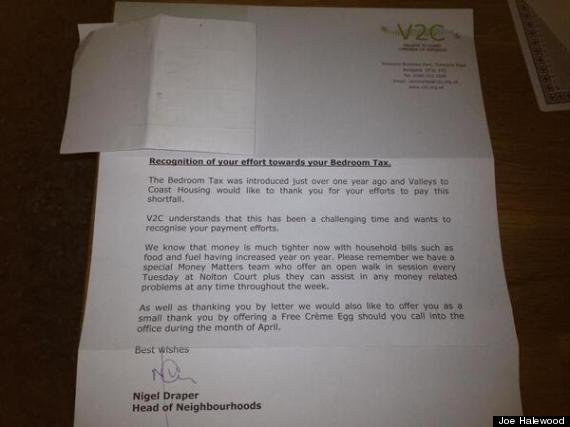 The letter about the bedroom tax told tenants a free creme egg was on offer
One person replied to the tweet, saying the offer was "possibly the most patronising thing ever".
@SpeyeJoe That is possibly THE most patronising thing I have ever heard. Is it one very expensive egg per bedroom or doesn't it say?

— Theegg Thefish (@kimblecheat) April 24, 2014
Nigel Draper, the V2C employee in whose name the letter was sent, told The Independent: "The letter of thanks and small gesture of the Crème Egg is an important recognition to those tenants who have struggled to find additional rent due to the bedroom tax.
"Over the last 12 months we have worked closely with our tenants to combat the worst effects of the bedroom tax.
"We always need to engage and keep the debate alive and the invitation to attend one of our regular walk-in sessions in Bridgend and pick up a free Crème Egg over Easter was a way of reminding tenants that even during the school holidays staff are available to help with financial advice."
TOP STORIES TODAY