A Conservative government elected in 2015 would axe public subsidies for any newly planned on-shore wind turbines, the party has said.
Existing wind farms and those already with planning permission would be protected from the change but Energy Minister Michael Fallon said these would be enough to meet 2020 targets set by the EU - meaning any further developments should not be subsidised.
Instead, the money will be used to back other renewable technologies as part of a mix of energy supplies.
Changes to planning rules will also give communities more power to reject on-shore wind projects not already in place or planned when the policy comes into force.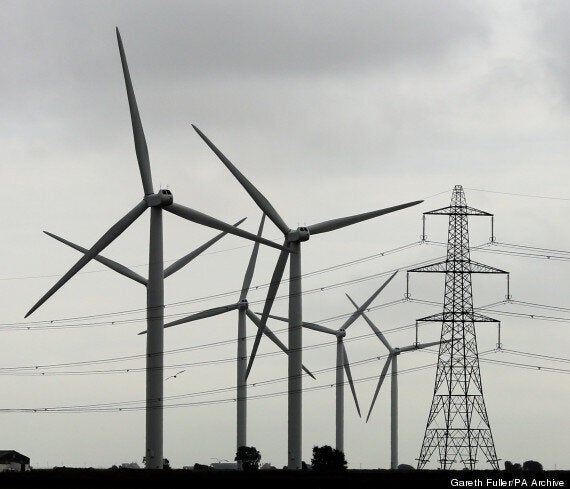 The Tories have pledged to axe subsidies for wind farms if they win in 2015
Mr Fallon said: "Making sure that we have a good mixture of reliable energy is an important part of our long-term economic plan to secure a better future for Britain.
"We remain committed to cutting our carbon emissions. And renewable energy, including on-shore wind, has a key role in our future energy supply.
"But we now have enough bill payer-funded on-shore wind in the pipeline to meet our renewable energy commitments and there's no requirement for any more.
"That's why the next Conservative Government will end any additional bill payer subsidy for on-shore wind, and give local councils the decisive say on any new wind farms."
According to figures from the Department for Energy and Climate Change, some 13.8GW of on-shore wind is already built, under construction or with permission in Britain - sufficient to meet targets of 11 to 13GW, even if some existing projects fail through a lack of finance or other problems.
There is currently enough on-shore wind power in the system to power four million homes, forecast to rise to seven million by 2020 under the coalition's plans.
Conservative Party policy is for renewable power to operate alongside nuclear, gas, and carbon capture and storage, to lower emissions and maintain energy security.
The party said its new policy would not cause a rise in household bills because contributions to renewable power are legally capped until 2020.
The proposed planning changes would mean applications for large on-shore wind farms would be handled by councils through the locally-led planning system, not the Nationally Significant Infrastructure regime. This will need a change in the law, which a majority Conservative government would look to pass within six months of taking office.
On Wednesday, the Liberal Democrat Energy Secretary Ed Davey announced eight new renewable energy projects have been given government contracts in a move that will increase household bills by 2%.
The schemes comprise five off-shore wind projects and three biomass schemes.