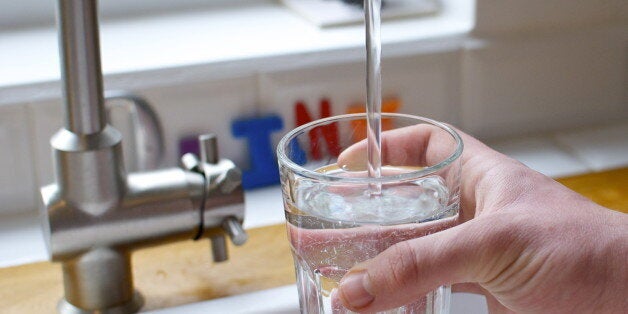 Proposals by water companies to increase bills as an "incentive" to beat their service targets have been branded "ridiculous" by MPs.
Under new rules, water companies could agree to a series of performance targets with water regulator Ofwat over 2015-2020 that could see them allowed to increase bills from 2020 if they beat their targets, or be forced to charge less if they fail to deliver a good enough service.
Teresa Pearce, Labour member of the Treasury select committee, told HuffPostUK that the move would leave the consumer worse off.
She said: "It's my understanding that the water companies are allowed by the regulator to earn a 'rate of return'. So it seems to me that the tables are already stacked in the water companies' favour and it's the customer that loses out. To expect customers to pay more for a service that should be a customer expectation is ridiculous."
Ann McKechin, Labour member of the business select committee, said: "I can't understand why customers would be expected to pay more if a notional service level was met – usually this would mean that productivity had improved and costs reduced so should be to the benefit of the customer.
"I think customers would expect companies and their shareholder to take a hit in profits if the service levels were inadequate – not for it to determine a bill increase."
HuffPostUK has seen slides from a market research survey currently being carried out by Thames Water, the UK's largest supplier, canvassing opinion on three billing systems which would include different sized variable elements, which could rise or fall depending on how well they hit their targets.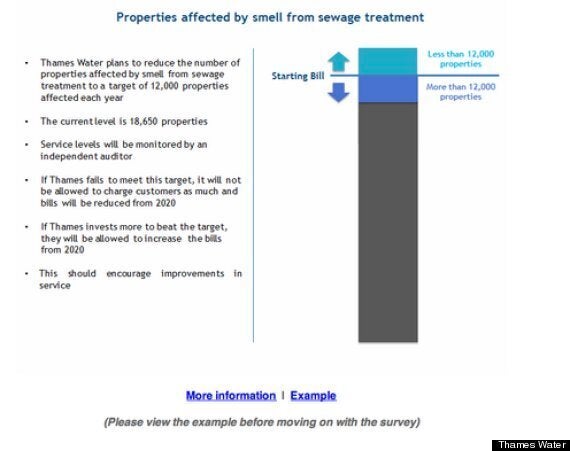 The water firm suggested that being allowed to increase bills from 2020 "should encourage improvements in service", with those surveyed invited to express their opinion on if they believed this.
Service targets could include reducing the number of properties whose water supply is interrupted, the number of properties affected by sewage treatment and reducing how much water is wasted through leakage.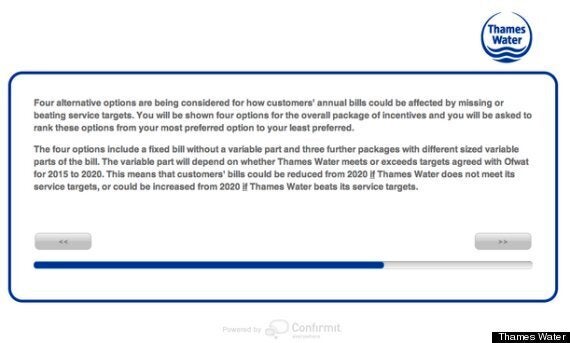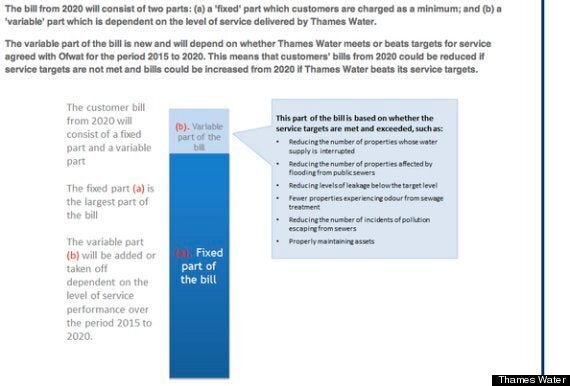 A Thames Water spokesperson said: "Speaking to our customers and understanding their opinions is a top priority, which is why we asked them a number of different questions. Over the past three years we have had extensive dialogue with our customers, more than ever before, and their views have helped to shape the company's plans for 2015-20. We're confident this plan will deliver value for money on the things our customers have told us matter most."
An Ofwat spokesperson said: "Customers can't choose their supplier, so we are here to make sure they get a fair deal. We want companies to listen to their customers and respond to what they want. No company will get a reward for simply doing their job.
"This is about stretching companies to do more and engage with customers to deliver the outcomes that their customers value. And this is definitely not a one-way bet – if companies fall down on service, they will be hit in the pocket. It's only right that when companies underperform it is companies, not customers, who pay out."