Europe's "father of gay marriage" has said the West must not forget the abuse and discrimination faced by Ukraine's LGBT community, as the fractured nation takes its first tentative steps towards the EU.
It was a situation deeply troubling Boris Dittrich, the world's first politician to propose an equal marriage law, when he spoke to Huffington Post in London.
Ukraine had "a lot of homophobia", the ex-Dutch MP said. "There is no protection of LGBT people."
If Ukraine's new government is set to embrace its Western neighbours, then Europe must not be too hasty to reciprocate without examining the lack of gay rights, Dittrich said, now Human Rights Watch's advocacy director for LGBT.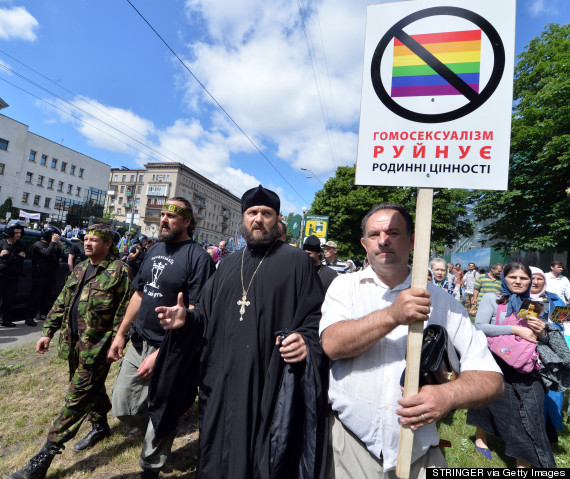 Orthodox believers carry placard reading 'Homosexuality destroys family values' as they march against a Gay Parade in Kiev
"Ukraine must meet many human rights standards before it can join Europe, or sign an association agreement, because the record is very bad. Now is the time to put pressure on Ukraine," he said.
Closer ties between Ukraine and the EU look promising since the toppling of pro-Kremlin premier Viktor Yanukovych in February. He was ousted by months of violent protests in Kiev, with many activists painting their faces the blue and yellow colours of Europe.
But even in the Ukraine's most Westernised regions, discussions around LGBT rights are nonexistent at best, and at worst antagonistic. Dittrich described how found himself in an ominous situation at opening Kiev's 2013 Gay Pride when support for gay marriage was used by undercover pro-Russia provocateurs to turn the public against the West.
"At the time there were pro and anti-EU demonstrations going on simultaneously," he recalled. "And there were also paid provocateurs, infiltrating the pro-EU protesters, they said 'we are in favour of same-sex marriage, we want to join Europe so we can have gay marriage'.
"This was a way to turn the general public against the EU, to make them believe that if they joined, same-sex marriage would be introduced."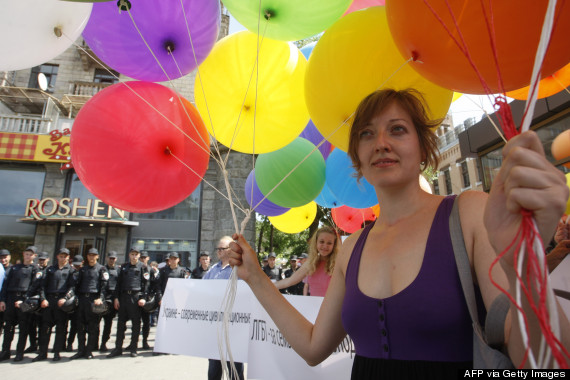 Activists hold coloured balloons and placard as they are surrounded by police during a rally against homophobia in Kiev
In Russian-speaking regions, homophobia is most pronounced, Dittrich said, noting that LGBT people in newly-annexed Crimea have already felt the brunt of Russia's ferocious "gay propaganda" law that bans the promotion of homosexuality.
"Now Russian legislation is applicable, and they immediately banned the Gay Pride.
"The situation for gay people in the Crimea will become worse and worse, there's no question."
Europe is by no means perfect when it comes to gay rights, but the man who began the movement predicts it will be only a decade before every country in Europe has some law to register gay partnerships, whether civil unions or marriage itself.
"Italy is a place where I really cannot see gay marriage happening soon, because of the influence Holy See," he said.
But there is more good news than bad, even in countries with a strong Catholic influence, which is not always an obstacle.
Ireland will be the next place, he predicted, having visited the country recently. "All political parties are in favour, and there's a referendum in 2015," Dittrich said.
"Malta too, is a very Catholic and quite Conservative country, introduced civil unions with almost equal rights to marriage. Luxembourg too want to introduce marriage equality."
The next continent that is most promising is Latin America, he said, but there are positive developments in Asia. In Japan, Dittrich said, marriage equality is "on the agenda though it won't happen for a few years", and the same is true for Vietnam and Thailand.
There are three regions where it is absolutely not on the agenda, Africa, the Middle East, and Russia and central Asia.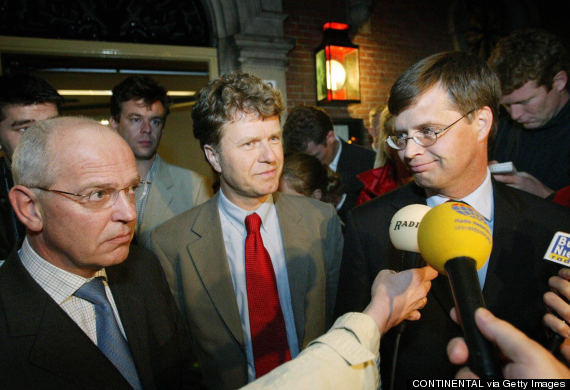 Boris Dittrich, then a Dutch MP, was the first politician to promote the idea of marriage equality
"In Africa, of course we don't even talk about same-sex unions," Dittrich said. "We try to keep people out of prison and repeal sodomy laws.They claim homosexuality is un-African, that it's against their tradition. It is a completely different kind of campaign and conversation."
Dittrich supports a ban on Olympic host cities who do not meet a certain "benchmark of human rights".
"That will avoid the problems we saw with Beijing and Sochi, if cities have to meet human rights requirements," he said.
The Netherlands may have been the first country to give LGBT people marriage equality, but now 16 have followed suit, the latest being the UK in March this year. Dittrich's critics predicted, more than two decades ago, that the Netherlands would be a "legal island" if the law was allowed to pass.
"I must admit I never expected this to happen when I set out," he said. "We had to do what we believed was right in the Netherlands, and say, 'ok, well if the rest of the world does not recognise those marriages, bad luck for those people who move abroad, but most will not'.
"I did not foresee that in 15 years time, so many countries are following the lead. We inspired people in other parts of the world. People now see a same-sex marriage celebration in the UK and think, why can't we have that in my country?"