A man has been killed after giant crucifix, erected in honour of the late Pope John Paul II, toppled on top of him.
The 30-foot 600kg wood cross fell during a ceremony in northern Italian village Cevo, near Brescia, ahead of the pope's canonisation which is set for Sunday.
It hit Marco Gusmini, who died instantly, and injured another man who has been hospitalised.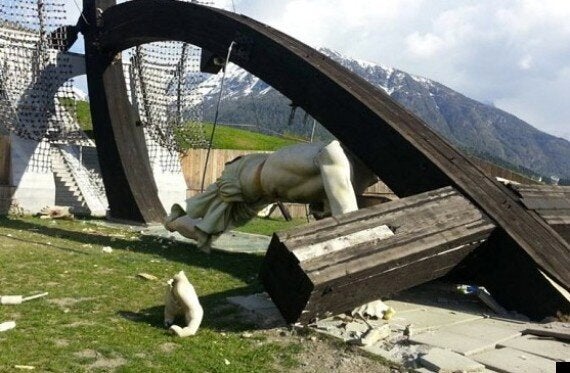 The crucifix toppled on top of Marco Gusmini
The victim had been posing for photographs with a group of friends in front of the cross.
The crucifix is part of a large installation by sculptor Enrico Job, featuring a Christ statue, and was fixed to the ground with cables.
It was first designed to mark John Paul's II visit to Brescia in 1998, but moved to Cevo, an Alpine town, in 2005.
In a bizarre twist, Gusmini is said to have been living in his home town of Lovere on a street named after Pope John XXIII, who will also be canonised on Sunday, the Telegraph reported.
Popular in the Community