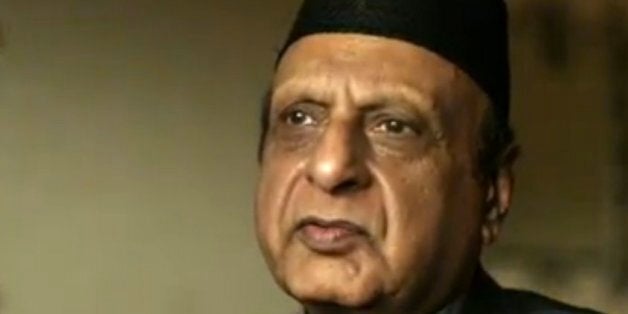 Masud Ahmad was imprisoned in November last year for reciting a passage from the Qu'ran.
The 73-year-old belongs to the Ahmaddiya community, who were declared non-Muslim by the Pakistan government in 1974 and are barred from practising their faith as Muslims.
Mr Ahmad escaped to Britain and is now living with his children in Glasgow.
The homeopathic practitioner believes he was deliberately targeted and set up.
"He asked me for some medical advice. I wrote whatever was needed and after that he pushed me into the religious questions," he said.
"I took the Qu'ran out and I said, 'let's see what the Qu'ran says'. I just quoted a little bit and translated it into Urdu, and then the police came.
"They grabbed me by the neck and took me to the police station."
He added: "It was planned many months ago, it wasn't just sudden. There was a black mark on my car and on my shop."
Mr Ahmad spent 65 days in jail where he slept on the floor before fleeing to Britain while on bail. He first came to the UK in the 1960s before returning to Pakistan in the 1980s.
He said: "Any Ahmadi can be sent to prison or murdered any time and nobody will ask 'why did you do that?' because he is a second-class, or rather third-class citizen.
"I love my country but I can't go back. If I go back I will be imprisoned or murdered, so I have no choice but to live in Britain and enjoy the freedom."
Mr Ahmad is one of scores of people who have been arrested in Pakistan under the country's blasphemy laws, which carry sentences of life in prison or the death penalty, although executions are rarely carried out.
Human-rights groups say the laws often are exploited for personal gain and that members of Pakistan's minority population are disproportionately targeted.