The bodies of 48 young girls wearing lifejackets have been discovered in a single 30-capacity cabin of the doomed South Korean ferry.
Ten days after the sinking, 187 bodies have been recovered and 115 people remain missing feared dead in the dark rooms of the submerged vessel. Divers look for people believed to have been trapped in the sunken ferry Sewol in the water off the southern coast near Jindo
Search officials said just 35 of the 111 rooms had been searched in the ferry so far.
The two rooms where searchers hope to find more of the missing are sleeping units designed for dozens of people - one in the stern and one in the bow.
Fifty pupils from Danwon High School in Ansan, on their way to the southern tourist island of Jeju, were booked into one of the rooms, reports have suggested.
The captain of the ship initially told passengers to stay in their rooms and took half an hour to issue an evacuation order, by which time the ship was tilting too severely for many people to escape.
Many of the children's bodies recovered from the sunken South Korea ferry had broken fingers, according to reports - suggesting the victims had frantically tried to climb walls or floors to escape in their final moments.
As they continue their desperate search for the hundreds still missing, South Korean divers have described having to swim though dark, cold waters into the sunken ferry, feeling for children's bodies with their hands in a maze of cabins, corridors and upturned decks.
"We have to touch everything with our hands," said diver Hwang Dae-sik, whose team had retrieved 14 bodies so far.
The entire 15 crew members involved in navigating the doomed South Korean ferry which left 302 people dead or missing after sinking, are now under arrest.
Two helmsmen and two members of the steering crew are in custody while eleven other crew members, including the captain, have already been detained.
According to prosecutor Yang Jung-jin, they are all accused of negligence and of failing to help passengers as they desperately scrambled for safety as the Sewol sank on April 16.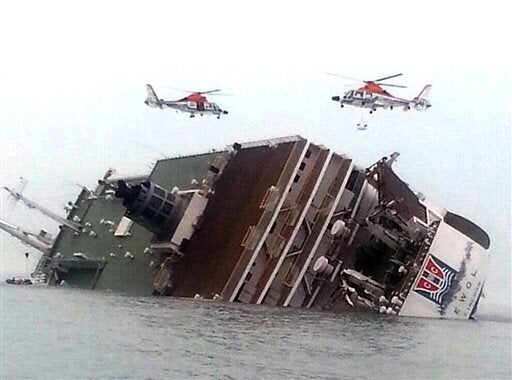 South Korean Ferry Sinks
Popular in the Community