A Conservative rebellion against a £50 billion high-speed rail link would be nearer 100 MPs if Labour opposed the project, a former Government whip claimed.
Tory Michael Fabricant said he knew between 80 to 100 of his fellow MPs have "really serious doubts" about HS2, amid talk around 30 to 40 Conservatives will vote against the Government in the House of Commons tomorrow.
But the Lichfield Tory said several MPs were reluctant to "use up our stocks" with the party's enforcers when the project is expected to clear its second reading thanks to support from Labour.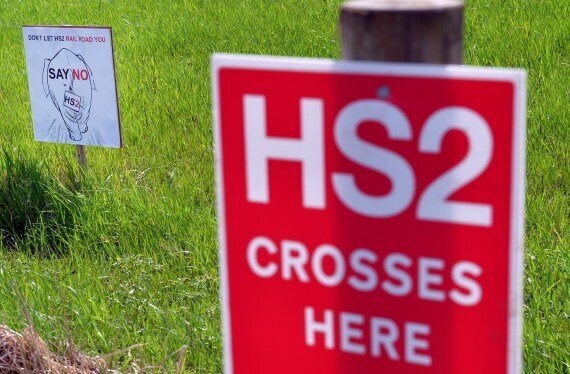 The proposed route is highly controversial
The HS2 link between London, the Midlands and the North of England is expected to cost £42.6 billion, which includes contingencies, with £7.5 billion for the trains.
Fabricant is among the senior Tories who have tabled amendments in an attempt to block the Government's plans.
He wants the coalition to bring forward a cheaper and more environmentally "sympathetic" route and has warned the line as set out in the High Speed Rail (London-West Midlands) Bill is "significantly more costly" than it need be to reduce damage to the environment.
Speaking on Murnaghan on Sky News, Fabricant said: "If Labour was against it then the rebellion would be a lot bigger than 40.
"The Government whips... advised Number 10 that without having Labour support, the legislation wouldn't get through.
"And I believe very, very clearly from all the consultations that we did that if Labour wasn't supporting it the legislation wouldn't go through.
"It'd be double the amount of rebellion that we've got now. People are saying, 'Well, if it's going to go through anyway why use up our stocks with the whips?'
"So probably... only 30 or 40 will rebel but I can tell you 80 to 100 people have really serious doubts either about the principle of HS2, including its costs, or, as in my case, the implementation of HS2."
The principles of HS2 are expected to be debated until 11pm in the Commons tomorrow while up to four hours will be scheduled on Tuesday to debate processes connected to the Hybrid Bill, which allows opponents to submit petitions and certain individuals and groups can state their case before a select committee.
Former Wales secretary Cheryl Gillan has tabled a cross-party amendment to block the Bill and vowed to vote against the second reading.
The Conservative told the Press Association: "There is no doubt that with all three parties whipped to support HS2, there is no chance to stop it.
"But I have to register opposition on behalf of the many people who do not want this project.
"I will have some colleagues with me - I'm sure a lot of people will be pressured to abstain. I don't expect any ministerial colleagues to vote against the Bill - and neither should they, I want to have people inside the tent as well as outside."
Ms Gillan said she was disappointed the Government had not listened to demands to allow an open-ended debate, instead curtailing discussion at 11pm tomorrow - an extra 60 minutes compared to the usual arrangements for Monday sittings.
She said: "We may have as little as 10 minutes to put across our arguments," she said. "For a Government that wants to be transparent and bring people along with them, the right thing would be to allow a full debate.
Shadow transport secretary Mary Creagh confirmed that Labour would be backing the Bill tomorrow.
"With the costs going up we had to look again at it, we had that look and we're backing the project," she told Sky News' Murnaghan programme.
"There are a lot of my Shadow Cabinet colleagues where it goes through their constituencies and they are absolutely right to raise those local issues.
"The Phase Two route consultation closed in January, we've got to see what changes, if any, there are to that route and the Government needs to get on and spell out what they are.
"But what we're also saying is we know there is a 2.3 cost benefit analysis, so you get £2.3 back for every pound that you put in.
"Railways go on for hundreds of years, they don't stop after 50 or a hundred years, they keep on going as we're seeing with Brunel's railway down to the South West which sadly fell into the sea.
"We've got to invest in our transport infrastructure but we've got to keep costs under control as well."