A Chinese man kidnapped his pregnant girlfriend and tried to blow her up with a gas canister he had tied to her.
Despite suffering horrific injuries, Xu Fan, 21 survived the ordeal as did her unborn baby.
She accidentally ended up pregnant after a one night stand with Li Moulian, 36, in Mazhuang New Village in Huizhou City of Guangdong Province in the south of China.
Story continues after slideshow...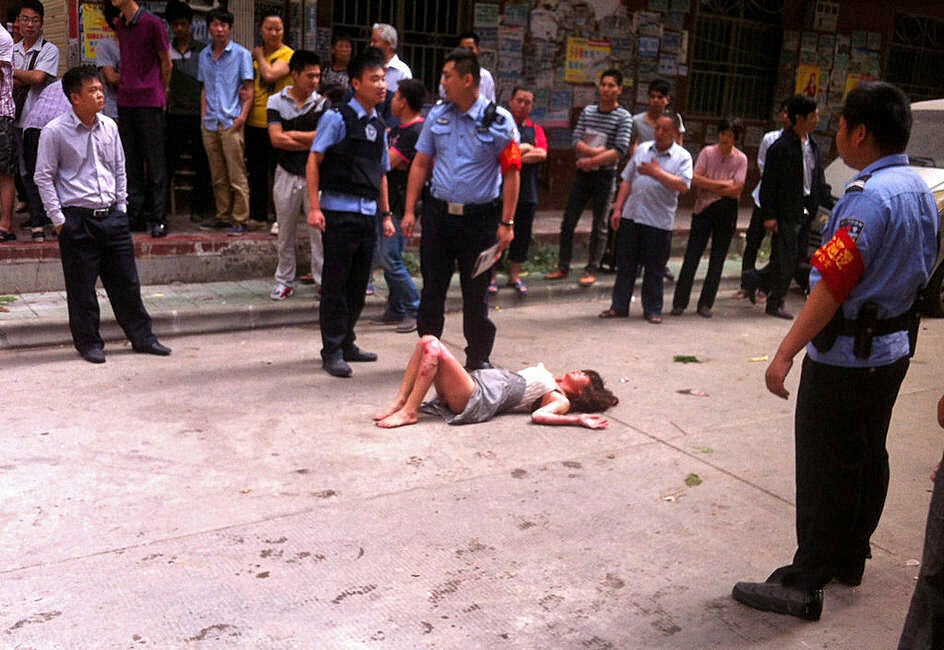 Gas canister attack
The couple decided to stay together with Li working hard getting occasional jobs to raise the money for his new family, and the couple moving in together.
But the pressure seems to have been too much for the new father to be, after he attacked her while she was asleep and dragged her out of her bed to his car when he tied the gas tank to her back and told her he planned to kill her.
She told police that there had been no signs that he was in any way unstable in the six months since she met him, and she had been shocked when he had been shouting at her that he knew she had killed his family.
He had bundled her into the car and driven around the town before police were able to spot him, after getting a call from one of the neighbours who had seen the young woman being dragged off.
Police spokesman Tao Hou, 36, said: "As the police car with a siren approached the car with the man and woman inside, and another blocked off its escape route from the rear, the man ignited something in the car which exploded into flames."
The girl was pulled from the car by police who had instantly attempted to extinguish the flames that were covering her body. Both the man and women were however extremely badly burned and taken to hospital, where they ended up in the same operating room side-by-side as surgeons worked to save the lives. After rescuing the girl and extinguishing the blaze, police had then rescued the man who was far more severely burned as a result, and who is not expected to survive.
The young woman's family said they had warned her against getting involved too quickly with Li Moulian, from Lufeng City located in the southeast of Guangdong Province. Her uncle Wu Chin, 47, said: "We had warned her that she needed to know more about him before deciding to spend her life with him, it seems sadly the warnings were true as he clearly has mental problems. To suddenly accuse her in the middle of the night trying to kill his parents shows he is obviously severely paranoid. It is a bad start in life for the child as well with the father having obvious mental problems."
Related