When you've got a brand that's more than 100 years old, reinventing can be a challenge. But in a fast-moving fitness industry, Reebok doesn't have much of a choice.
As other sports brands such as Nike and Lululemon have shown with their community-based fitness initiatives, now is the time to go out and inspire people to become active, rather than just dress them.
We caught up with chief marketing officer Matt O'Toole to find out what the change means for women.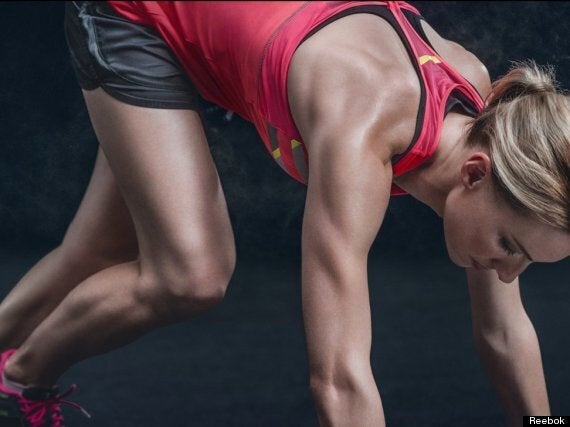 What sets Reebok apart from other women's fitness brands?
Reebok has a long history in fitness and particularly women's fitness. In the 1980s Reebok was a pioneer in the industry – a one of the first shoe companies to develop and market athletic shoes specifically to meet the needs of women. We were at the forefront of the aerobics boom of the time. So we have a heritage that not many brands have.
But what also sets us apart is our approach to fitness. We don't really think fitness for men and women should be all that different.
Reebok is about a more human form of fitness. Reconnecting us to way our bodies were meant to move. It's a more physical and challenging form of fitness. Our consumers, regardless of gender, look at fitness as something to focus the mind, to embolden the heart and to liberate their potential as a partner, parent, co-worker or a friend.
We know that women love to work out in a group, with friends. And why do they love it? Because they what they experience in their community is very powerful. To be joined by friends, as part of a community with common purpose is something that allows women to be the best that they can be.
Women will push themselves just as hard as men do. I see this when I attend my CrossFit class. We believe that when you discover your breaking point, or even fail, you learn something about yourself that is very rewarding.
Why has Reebok relaunched?
For the past 30 years, Reebok has successfully made products for elite athletes across a wide range of sports, but what we haven't been able to do is inspire people to move. We want to help people realise their potential through fitness, to go out there and be active.
How does Reebok's clothing enhance women's performance?
Reebok designs products that help people perform at their best regardless of what activity they participate in. We are continuously updating our product technologies whether it be in training, walking, running, dance or yoga. We believe we are creating the very best functional fitness products in the world for both men and women.
We understand three important things that are unique to women.
Firstly, that style is more important than function for women, and we have our own special design DNA that provides the trend-right style she is looking for.
Secondly, we know that women's bodies are different and have different needs. Our product teams do extensive work to understand these needs and make products that meet them. So we are constantly gathering feedback, whether it be on our bra tops, leggings, shorts etc… to create the perfect product from both a performance and aesthetic standpoint.
And finally, we know that women have a more cross-functional approach to fitness. Often women pack their bag in the morning not knowing which class or activity they may end up in, so we design products that work from a performance standpoint for different activities and also products that can be mixed and matched from a style standpoint.
We understand that for women today it's less about empowerment and its more about giving them confidence to push even harder - in fitness and in their lives. In fact, we even incorporate hidden messages, little phrases or words of encouragement or inspiration in our products that speak to women in a way we know resonates with them.
What products do women like?
On the training side our bra tops continue to do very well such as the Reebok CrossFit Skinny Racer Bra. For yoga, our "cloud pants" legging - part of our Spring '15 Yoga collection - are hugely popular. On the footwear side, the Reebok CrossFit Nano has become the official shoe of fitness and it's been a big success for us for both men and women.
How has the women's fitness industry changed over the past 10 years?
The biggest change has been the emergence of new "sports" that are redefining what fitness can be. Fitness activities like CrossFit and obstacle racing have become huge new additions to the fitness landscape. And there are a number of new forms of fitness that are merging different activities and disciplines. Things like Piloxing, which is a combination of Pilates, boxing and dance, hip hop yoga, paddleboard yoga and many more are growing in popularity.
Exercise is taking place everywhere, not just in the gym. Today there is more diversity in what women are doing. Women are pushing the limits and fighting against the complacency that holds many people back, more than ever before.
Finally, style is becoming much more important. This convergence of fitness and lifestyle is happening in a big way for women - and men as well. Today, women are wearing fitness footwear and apparel increasingly in their daily life, on the street, on the weekends… even combined with fashionable dresses.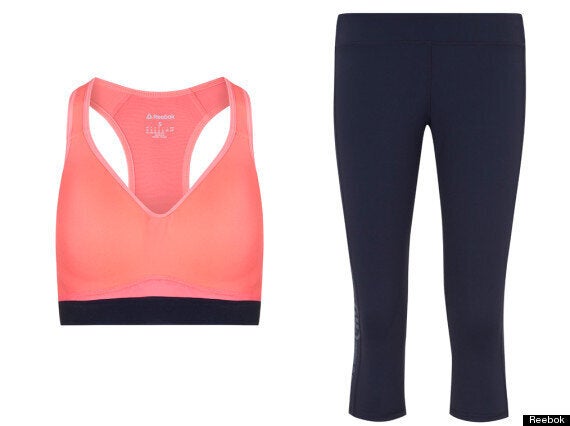 Appearance: I'm not one for ostentatious sports gear, particularly on my bottom half - it's not an area I particularly want to draw attention to, especially when jiggling about in the gym. These black leggings with subtle grey CrossFit logo are perfect, they're mat rather than shiny and high-quality material.
The coral-coloured bra matches the detail on my trainers - which is great. I want to look stylish in the gym, not like I just dived into the school lost property box. The bra looks great underneath a black top - at least the flash of colour can detract from my sweaty beetroot-red face.
In action: Unlike many tights, these don't fall down the second you start doing vigorous exercise. This, I'm told, is due to the 4-way stretch fabrication complete with ergonomically-placed side seams to keep them in place - the last thing you need in the gym is to be distracted by your bum inching out. They're also super comfortable and flattering.
The bra is really supportive - It has shaped coverage, moulded cups and a foam underwire to keep your breasts in place. Reebok's PlayDry technology absorbs moisture, so there's zero chance of sweaty under boob.
Verdict: I love both of these items, they are great value for such high-quality piece of kit. They are suitable for high-intensity workouts but can also double up for yoga or dance classes, which is great and means you don't have to buy a bazillion products if you like doing different forms of exercise.