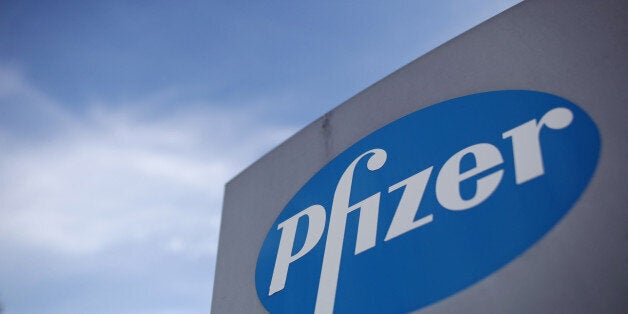 The American firm revealed it had been rebuffed by Astra after initial talks in January valuing the company at £58.7 billion, and added that further overtures this weekend were also rejected.
But it confirmed its "continuing interest" in its target, saying it offered shareholders a significant premium to the share price. If the deal had gone through, it would have been the biggest ever takeover of a UK firm by a foreign company.
Pfizer said it was "confident a combination is capable of being consummated". Speculation about the deal last week sparked a surge in pharmaceutical sector shares.
Pfizer disclosed that a cash-and-share proposal at the start of the year had been made at 4661p per share, a 30% premium to the price at the time, but that following high-level talks, Astra "declined to pursue negotiations". Details began to emerge last week, driving up the UK company's share price.
The US firm then sought to revive discussions by contacting its rival on Saturday, but said Astra "again declined to engage".
Pfizer said it was considering its options but insisted that a deal would represent a "highly compelling opportunity" to Astra investors.
It said it would include a "substantial" cash payment as well as the chance to become significant shareholders in the combined company , sharing in future growth prospects and the benefits such a merger would create.]
The transaction would be expected to result in a combination of the two firms under a UK-incorporated holding company, with management on both sides of the Atlantic and head offices in New York, where it would be listed on Wall Street.
Pfizer said: "We have great respect for AstraZeneca and its proud heritage as an innovation-driven biopharmaceutical business with a rich science-based foundation in both the United Kingdom and Sweden.
"In addition, the United Kingdom has created attractive incentives for companies to manufacture products and maintain and protect intellectual property, and we have seen that capital and jobs have followed these types of incentives.
"We believe patients all over the globe would benefit from our shared commitment to R&D, which is critical to the future success of the pharmaceutical industry, in the form of potential new therapies that help to fight some of the world's most feared diseases, such as cancer."
An AstraZeneca spokeswoman had no comment.
If accepted, the move would be expected to mark the biggest-ever foreign takeover of a UK business. Astra remained silent about the speculation when it published a trading update last Thursday, that showed first quarter revenues up 3%.
Unions and MPs have voiced concerns about the potential impact on jobs and manufacturing exports from any takeover deal.
It comes as Astra moves its research centre to Cambridge where it recently announced the launch of a joint facility with the Medical Research Council.
The company was itself formed through the merger of Sweden's Astra and Britain's Zeneca in 1999. It is one of the world's biggest pharmaceutical companies and produces a large range of medicines including cancer and diabetes drugs.
Revenues were down 6% to 25.7 billion US dollars (£15.3 billion) last year, reflecting the loss of exclusivity on a number of drugs it had developed as patents ran out.
Pfizer's revenues of 51.6 billion US dollars (£30.7 billion) for 2013 were also down 6% on the previous year. A takeover of AstraZeneca would dwarf its previous deal to buy rival Wyeth for 68 billion US dollars (£48 billion) in 2009.
Pfizer employs more than 900 people at its UK headquarters at Walton Oaks in Surrey.
AstraZeneca shares climbed more than 15% to over 4700p as trading opened on London today, representing an increase in value of nearly a quarter, or around £11 billion, since before the takeover speculation began last week.
The company employs more than 50,000 people around the world, including 6,700 in the UK.
It announced last year that it was building a new £330 million research and development site on Cambridge Biomedical Campus by 2016, employing about 2,000 staff, with corporate staff also moving to the city from London.
The company said the plans would boost the chances of Britain discovering the next generation of medicines and that it would become a "global leader in biopharmaceutical innovation".
Chief executive Pascal Soriot said the move confirmed Astra's "long-standing commitment to the UK".
Astra also last year announced it would end research and development at Alderley Park in Cheshire, with about 1,600 roles moving over three years. Combined with the closure of its London headquarters, it would mean 700 UK jobs cut by 2016.
Popular in the Community