London Underground workers have walked out on a 48-hour strike in a long-running row over Tube ticket office closures.
Members of the Rail, Maritime and Transport union are taking action in protest at controversial plans to close all Tube ticket offices which it says will cost hundreds of job losses and threaten safety.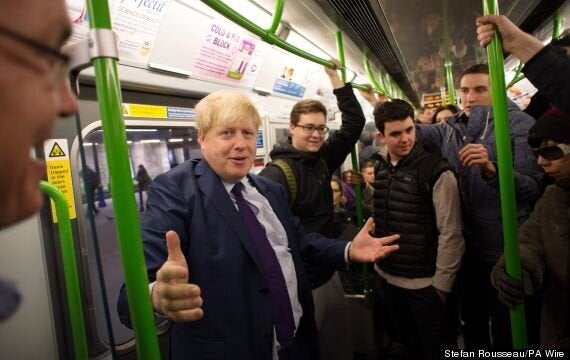 Boris Johnson has accused the RMT leadership of being 'set against modernisation'
But LU maintains that staff would be better employed on station concourses as only 3% of tickets are bought at ticket offices.
The company, and London Mayor Boris Johnson, attacked the strike which will cost the capital millions of pounds and cause huge disruption for commuters and other travellers.
A further strike is planned for three days from 9pm next Monday. The RMT is also holding a 48-hour strike from 3am on Tuesday on the Heathrow Express in a separate row over jobs, pay and cuts.
Leaders of the RMT held a last ditch meeting with LU at the offices of the conciliation service Acas in a bid to resolve the row over Tube ticket offices, but the talks only lasted a couple of hours and broke up with no sign of a breakthrough.
The union said it had put forward proposals which it believed could have led to the industrial action being suspended.
RMT acting general secretary Mick Cash said: "London Underground have dug themselves into an entrenched position and have refused to move one inch from their stance of closing every ticket office, in breach of the agreement reached previously through Acas which enabled us to suspend the previous round of action.
"Despite the spin from LU nothing that they are proposing is about 'modernisation'. The current plans, closing every ticket office and axing nearly a thousand safety-critical jobs, is solely about massive austerity cuts driven centrally by David Cameron and his government and implemented by Mayor Boris Johnson.
"RMT could have recommended the suspension of this strike action if LU had responded positively to our proposal to halt the implementation of these savage cuts, stopping the dire impact they would have the length and breadth of London Underground."
Boris Johnson said: "I urge the RMT to call off this pointless strike and get back round the table with London Underground and the three other unions who've chosen not to strike.
"It seems the RMT leadership is set against modernisation and has no fresh ideas of its own.
"More than 600 people have asked for voluntary redundancy and yet, without consulting any of their own members the RMT is suddenly insisting that London Underground halt this process.
"Despite dozens of meetings over several months the RMT chose only on Friday to make fresh demands. It seems they are more interested in fighting over the leadership of the RMT than the interests of their members.
"Commuters and businesses will suffer because a few narrow minded union barons are currently flexing their muscles in a fight for the leadership of a union where just 30% of members support a strike."
Mike Brown, managing director of London Underground, said: "The RMT leadership appear to remain implacably opposed to the modernisation of the Tube that will radically improve customer service and help us keep fares down.
"For example, at our busiest stations, there will be nearly a third more staff visible and available to provide, on a permanent basis, the face-to-face customer service we offered during the London 2012 Games.
"Fairness to our staff is also guaranteed. There will be no compulsory redundancies, there is a job for all staff wanting to remain with us and no one will lose pay as a result of change. We have also made significant changes to our original proposals after listening to staff and unions in over 40 meetings, including agreeing that supervisors will not need to 'reapply for their jobs'.
"However, the RMT leadership continues to say 'no' to everything, and they also appear in the context of these changes to be opposed to giving our staff the option of voluntary redundancy.
"Only the RMT leadership know the real motivations behind their actions, but it is infuriating that London's commuters and businesses are the ones who are being forced to pay the price with five days of utterly pointless and disruptive strikes.
"We have asked all the trade unions to continue talking to us this week and we hope that they continue to do so."
Related