Kim Kardashian's Vogue cover looks set to become the highest-selling issue in the magazine's history.
The cover for the April issue of Vogue - which features Kim in bridal attire alongside her husband-to-be Kanye West - was unveiled back in March, and divided opinion in the fashion world.
Some critics were unimpressed with editor Anna Wintour's decision to include the 'Keeping Up With The Kardashians' star on the cover - including supermodel Naomi Campbell who seemed suitably unimpressed when asked about it in an interview - while others believed that Kim's celebrity status made her a perfect candidate for a Vogue photo shoot.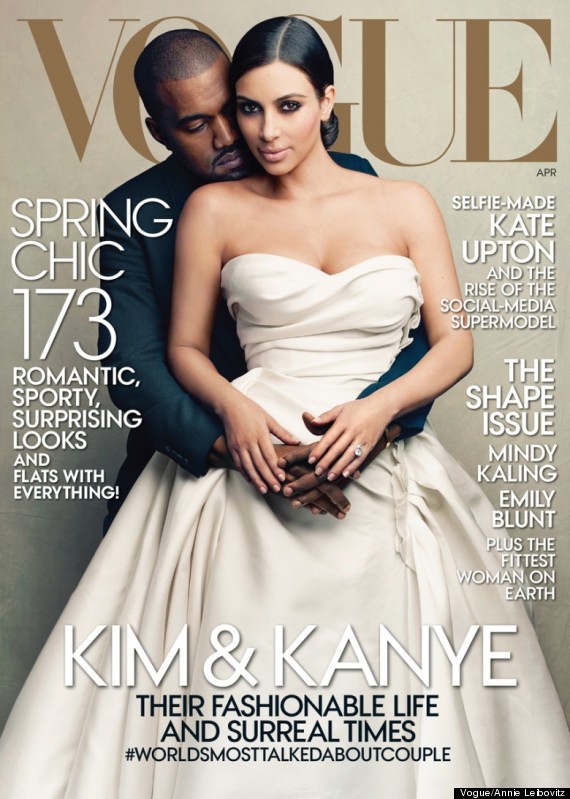 Kim and Kanye's controversial Vogue cover
Anna Wintour stood by her decision to put the famous couple on the front of her magazine, and dismissed claims Kanye had pressured her into using them.
She said, within the issue: "My opinion is that it is both charming and touching, and it was, I should add, entirely our idea to do it; you may have read that Kanye begged me to put his fiancée on Vogue's cover.
"He did nothing of the sort. The gossip might make better reading, but the simple fact of the matter is that it isn't true."
Whatever your opinion on the couple's appearance on the front of Vogue, the controversy has obviously translated into sales, with Radar Online reporting the magazine could sell upwards of 500,000 issues - more than Beyoncé and even first lady Michelle Obama sold when they each appeared on the cover - which would make it the highest-selling issue of Vogue ever.
Whether or not it manages to break the record, the couple have already made Vogue history for being on the first ever cover to feature a hashtag, the typically modest #WorldsMostTalkedAboutCouple.
Of course, Kim might have contributed a little to the issue's high sales, as she and her sister Kendall Jenner were recently seen buying copies of the issue in bulk...
href="http://www.facebook.com/HuffPostUKEnt"target="_hplink">LIKE US ON FACEBOOK

| FOLLOW US ON TWITTER