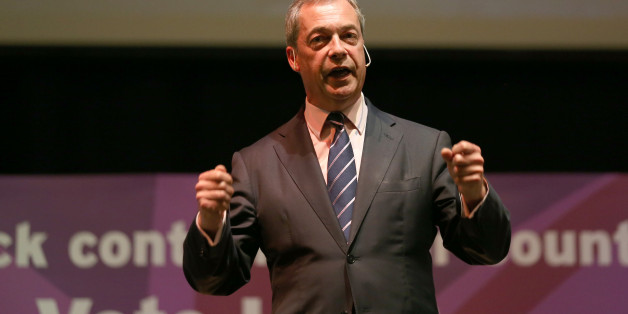 Matt Cardy via Getty Images
Here are the five things you need to know on Wednesday 30 April 2014...
1) HAS NIGEL BOTTLED IT?
It's the question that'll be asked across Westminster today, after the Ukip leader appeared on the Today programme this morning to announce he wouldn't be standing in the forthcoming by-election in the Tory seat of Newark - which was prompted last night after scandal-tainted Tory backbencher Patrick Mercer decided to quit parliament.
The Times splashed on the headline "MP's exist gives Farage his chance". The Telegraph splashed on "Farage's by-election bid to rock Cameron".
Yet Farage told Today's John Humphrys that he wouldn't run in Newark as it would be a "massive distraction" from the wider Ukip campaign for the European elections and he would "just look like an opportunist". It would, he argued, "reinforce the impression that much of the media tries to give that somehow Ukip is a one-man band.. it's all about me."
Asked if he was "frit" by Humphrys, Farage laughed. "You have to pick your battles in life," he replied. "Let's pick a candidate who's local to the area..and we'll throw the kitchen sink at it."
Speaking after Farage, veteran Tory minister and Ukip-basher-in-chief Ken Clarke told Today that he wasn't surprised by the decision because Farage wasn't "an idiot". "I don't think he'd have the faintest chance of wining in Newark," he added. "What on earth could Ukip contribute to the representation of Newark?"
Will Farage recover from this? Will he regret his decision not to run for a parliamentary seat again?
2) HOW THE HEDGIES CLEARED UP
From the Independent:
"The Royal Mail flotation scandal deepened last night after officials finally admitted that hedge funds were among the 'priority investors' sold hundreds of millions of pounds of shares... sources in the Department for Business have confirmed to The Independent that around 20 per cent of the shares it had allocated to 16 preferred investors had gone to hedge funds and other short-term investors... A recent National Audit Office report revealed that of the 16 priority investors, half had sold their shares within weeks of the flotation... Lansdowne, another hedge fund which is known for its close links to the Conservative Party, also appears to have received an allocation of around 18 million shares, at a cost of just under £60m. Lansdowne said the owners of the shares are Lansdowne's clients not Lansdowne. It is understood that Lansdowne has not sold any shares."
3) 'UNMANAGEABLE KAFKAESQUE CARICATURE'
Remember Tony Blair's 'education, education, education'? We haven't heard much on the issue from the current Labour leadership. Until now. From the Guardian:
"Labour has vowed to wipe the slate clean of Michael Gove's 'Kafkaesque' education system in which Whitehall oversees thousands of atomised schools, and is promising to introduce a new system of local school commissioners. The plan, devised by Tristram Hunt, the shadow education secretary, and the former education secretary David Blunkett, is for commissioners to be responsible for raising standards, for handling failing schools and for deciding on proposals for new schools. A report outlining the plan, written by Blunkett, accuses the coalition of producing a system where the logical conclusion would be 20,000 autonomous schools and 'an unmanageable Kafkaesque caricature freeing schools from everything except the secretary of state'... The reform plan, which represents the most important statement on Labour education policy for 10 years, aims to assimilate New Labour education reforms, and the way in which those reforms have been developed and altered by Gove, the education secretary. The plans are likely to be attacked by the Labour left as giving insufficient importance to the traditional role of local education authorities and by the right for lessening the autonomy of academies and free schools."
BECAUSE YOU'VE READ THIS FAR...
Watch this video of a tiny dog pulling a huge suitcase across an airport terminal building.
4) 'APPALLING VANDALISM' OF WIKIPEDIA
What on earth has been going on inside of government, with regard to Wikipedia edits? From the BBC:
"The charity that represents Wikipedia in the UK has condemned edits made from government computers after more incidents of vandalism emerged. The BBC has discovered that the phrase 'all Muslims are terrorists' was added to a page about veils. Another edit deleted text in Cherie Blair's entry about the flat-buying scandal that made headlines in 2002. The Liverpool Echo last week revealed that insults had been added to the entry for the Hillsborough Disaster. Stevie Benton, from Wikimedia UK, told the BBC: 'We find this kind of vandalism appalling'... The Cabinet Office has admitted that, due to the nature of its computer network, it would be almost impossible to track down who is responsible for the offensive remarks. A spokesman said: 'We are exhausting every option. Anyone with information should contact the Cabinet Office.'"
5) BRITAIN'S GUANTANAMO?
More shameful news out of Afghanistan - from the Times:
"Britain has been running secret prisons at two bases in Afghanistan and has held one detainee without charge for two and half years, according to a panel set up to investigate illegal detention. Investigators said they had uncovered the facilities controlled by UK forces, one inside Camp Bastion in Helmand and the other at a US-administered base in Kandahar, that had held prisoners beyond the maximum 96 hours agreed with Kabul before they are supposed to be handed over to Afghan custody. The conclusions threaten to put further strain on relations between Britain — as it withdraws the vast majority of its troops in the country — and the Afghan government as President Karzai prepares to hand over to a sucessor after 13 years in charge."
PUBLIC OPINION WATCH
From the Sun/YouGov poll:
Labour 37
Conservatives 32
Ukip 14
Lib Dems 9
That would give Labour a majority of 58.
900 WORDS OR MORE
Nigel Farage, writing in the Independent, says:
Mary Riddell, writing in the Telegraph, says: "Ed Miliband must aim to reduce inequality, not the size of gas bills."
Daniel Finkelstein, writing in the Times, says: "Cyril Smith and the ghost of politics future."
Got something you want to share? Please send any stories/tips/quotes/pix/plugs/gossip to Mehdi Hasan (mehdi.hasan@huffingtonpost.com), Ned Simons (ned.simons@huffingtonpost.com) or Asa Bennett (asa.bennett@huffingtonpost.com). You can also follow us on Twitter: @mehdirhasan, @nedsimons, @asabenn and @huffpostukpol