Prince Harry and his girlfriend Cressida Bonas have split up after two years together, according to royal sources.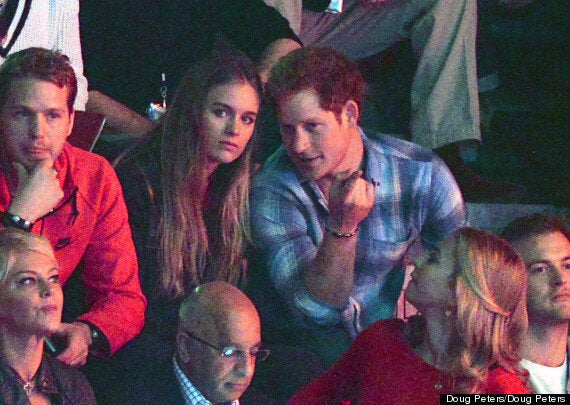 Prince Harry and Cressida Bonas at We Day
"It's very, very sad that they have decided to split. It's very amicable but they have decided to go their separate ways," the source said.
The news of the split came as Prince Harry was visiting wounded servicemen and women at an event to mark the beginning of a selection process for his Paralympic-style championships.
The prince met more than 25 potential competitors who are hoping to take part in the wheelchair rugby, cycling and indoor rowing events at the Invictus Games.
Harry, who wore jeans and a black fleece emblazoned with the Games logo, said he hoped the challenge would help injured personnel in the recovery process.
"I have seen how powerful sport is as a means of rebuilding confidence as well as aiding with physical rehabilitation," the Prince said.
"These men and women are fighters by nature.
"The intense physical training and competitive spirit that will be forged inside this team as they prepare to represent their country in the Invictus Games will, I hope, go some way to helping the recovery not only of those who hope to be selected here today, but also inspire others along the way."
One of the reasons the couple decided to call time on their relationship was thought to be so that Cressida, who is just 25, could concentrate on her career.
She completed a one year contemporary dance course at the Trinity Laban Conservatoire in Greenwich, London, last year.
The pair, who headed off on a skiing trip together to Kazakhstan in March, are said to have been introduced by the Prince's cousin and Cressida's friend Princess Eugenie - although they have moved in the same upper class circles for a number of years.
They began dating around May 2012 - reportedly getting together at The Valley festival on friend Arthur Landon's Hampshire estate.
They holidayed on Sir Richard Branson's Caribbean Necker island for Sam Branson's birthday in the summer of 2012.
The Prince headed to Afghanistan for a tour of duty and Harry and Cressida were reunited on his return, setting off for a ski break with Eugenie, Beatrice, Sarah, Duchess of York and the Duke of York. Harry and Cressida were spotted hugging on the slopes.
A summer of festivals and gigs in 2013 saw the pair spending more and more time together, including a weekend at the Queen's private Sandringham retreat in Norfolk. Rumours of an engagement started to surface just 18 months after they began dating.
The pair are said to remain "the best of friends" and did not split because Harry found Cressida "too needy", the source said.
Kensington Palace has declined to comment.