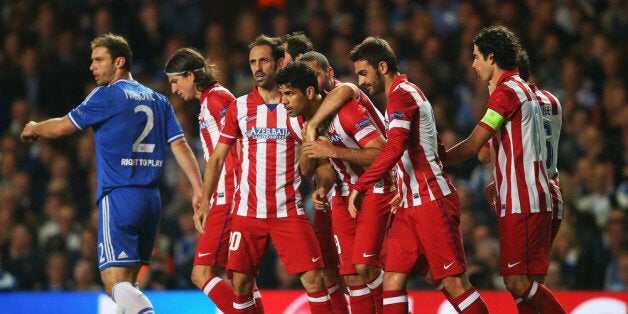 Three sides have failed to make the Champions League final after a goalless first leg since the turn of the century, and three times now it has happened to Chelsea. There was no ghost goal or refereeing incompetence to taint their ejection this time, though, as Atlético Madrid's stratospheric rise under Diego Simeone culminated in a first European Cup final in 40 years.
Diego Costa may prove to be the antidote to Chelsea's striker dilemma next season, but it was his right foot which secured a fourth consecutive semi-final disappointment for Mourinho, and his third last four failure at Stamford Bridge. Once a magnet for trophies, he could now experience a second barren campaign in succession and, despite his two European Cup winner's medals, is beginning to resemble a nearly man in the competition. Managers have got sacked for far less under Roman Abramovich's ownership.
Simeone greeted Arda Turan's 72nd minute goal with a jog down the touchline reminiscent of Mourinho's dash at Old Trafford 10 years ago. The new gunslinger in town had outgunned the sheriff again.
"José Mourinho, hijo de puta," - son of a whore - bellowed Atléti's following. Simeone ended Mourinho's tenure at Real - and lifted Atlético's derby hex - with a first win in 14 years in the Copa del Rey final last season, and their supporters partied like it was 1999 again in London.
Chelsea looked laboured, and the experimental formation, although doubtlessly worked on fastidiously in training, did not reckon with Atlético's vibrancy. "I want to thank the mothers of the players," Simeone declared, "they gave them big balls to play."
Mourinho paid homage to the London tube strike with his own form of congestion - six defenders. The fit again John Terry was joined by Branislav Ivanović, Gary Cahill, Ashley Cole, David Luíz and César Azpilicueta, with the versatile Spaniard moved to the right wing, while the indisciplined Luíz started alongside Ramires in midfield.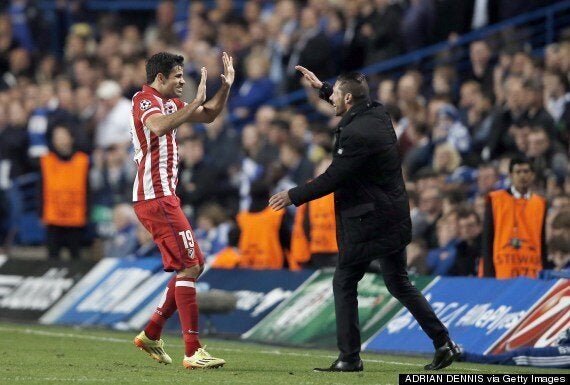 Costa is congratulated on his winning goal by Simeone
Atlético almost breached the rearguard inside five minutes when Koke's cross looped over a startled Mark Schwarzer and onto the crossbar, with the rebound off Cahill nestling onto the top of the net. Referee Nicola Rizzoli might have incurred the wrath of Mourinho's attack dog, Rui Faria, having missed a handball in the build-up. Mourinho jumped out of his seat but his son, sat six rows behind the dugout, was the more animated and even raised his middle finger at Atléti's fans during their derogatory ditty.
Perhaps a tad lethargic still from his bug, Mourinho was sanguine on the touchline. He shook the fourth official's hand randomly, as if to complete the pleasantries early ahead of a potential post-match diatribe, whereas Simeone was jittery and frantic, virtually trying to move his players into the preferred positions.
Atlético captain Tiago Mendes was signed by Mourinho during his first season at Chelsea and rejected the MC's attempt to publicly welcome him back to west London. Didier Drogba fell for such romantic gamesmanship but Tiago didn't, and he forced Chelsea to attack the Matthew Harding Stand in the first-half, rather than in the second 45.
Luíz's acrobatic effort in the 23rd minute was a rare glimpse of Thibaut Courtois' goal as the teams continued to cancel each other out beyond the two-hour mark in the tie. Costa was again marshalled authoritatively by Terry while it looked as though Fernando Torres was continuing his barren tribute act to Diego Forlán. And then he did it again.
The man who scored the clincher in the semi-final at Camp Nou two years ago, Torres crowned Willian's skilful industry and Azpilicueta's cross with an effort Courtois looked to have covered until it deflected off Mario Suárez. Predictably, the Spaniard opted for a muted celebration against his beloved. Even when he scores for the first time in over two months, Torres is unable to savour it.
Atlético seized the advantage one minute before half-time. Tiago pitched his pass perfectly towards Schwarzer's far post, where Juanfran knocked the ball back for Adrián López to finish past a scurrying Luíz. Brought to his knees by the away goal, Tiago slid past a taciturn Mourinho to embrace the jubilant Atlético huddle on the sidelines.
Mourinho decided against introducing an attacker at the interval despite Samuel Eto'o's name being aired, and two minutes after the re-start, Schwarzer was tested by Turan. The shrill from the Rojiblancos intensified with belief in the Shed End as their blue counterparts' frustration grew.
Eto'o was introduced for Cole with the second 45 eight minutes old, but not before Courtois repelled a Terry header. "The difference was one minute in the second half where the Atlético goalkeeper makes an impossible save from Terry's header," Mourinho opined. It was a grand overstatement.
Overly eager to effect the game, Eto'o did just that, only at the wrong end, as he blatantly tripped Costa to concede a penalty. Costa might not have had the chance to take it, as he took an eternity to settle the ball on the spot, received a booking, and then squared up to Terry, shoving him away. When he regained his composure, the Brazilian-born striker smashed the ball into the top right-hand corner of Schwarzer's net.
Luíz headed the ball against a beaten Courtois' post and Ba was thrown on in desperation, but Turan finished a quickfire counter-attack to dash any hopes of a Paris Saint-Germain-style comeback.
Popular in the Community