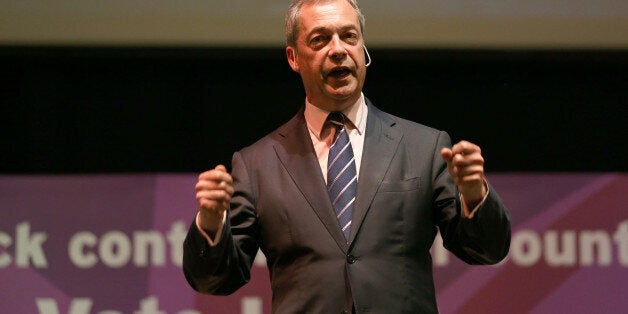 Only one in five members of the public would consider voting for Nigel Farage if he stood in their parliamentary constituency, an exclusive poll for the Huffington Post UK has revealed.
A poll by Survation found that just a fifth (21%) of the electorate would vote for the Ukip leader "if he was standing in my constituency", whereas almost half (49%) say they wouldn't back him.
In what could be seen as a boost for Ukip's leader and a blow to the Tories, however, more than one in three people who voted Conservative in 2010 (34.5%) say they would vote for Farage if he was a candidate in their constituency come 2015, compared to less than a fifth of Lib Dem (17%) and Labour (15%) voters.
"With 35% of 2010 Conservative voters across the country saying they would vote for Nigel Farage if he was standing in their constituency, he clearly has a genuine prospect of winning a seat somewhere with favourable local conditions," said Survation's Patrick Brione. "Whether Newark is such a seat is perhaps less clear. Nevertheless, these results suggest that Conservative MPs across much of the country have good reason to fear a Farage candidacy in their seat."
Farage has already stood for Parliament unsuccessfully five times. Asked on BBC Radio 4's Today Programme whether he was "frit" for refusing to contest Newark, the Ukip leader insisted: "I'm a fighter, I'm a warrior, but you have to pick your battles in life".

The HuffPost UK/Survation poll found more voters than not believe Farage avoided standing in the forthcoming by-election in Conservative-held Newark, triggered by the resignation of Tory MP Patrick Mercer, because he is "scared of losing" - 32% versus 30%.
However, among Labour voters, the proportion citing the fear factor is much higher - 50% of them think Farage is "frit" compared to 37% of Tory voters and 27% of Lib Dem voters.
Ukip has been trying to target Labour and ex-Labour voters in the run-up to the European parliament elections on 22 May, especially in the north of the country.
Mercer, who faced a six-month ban from parliament, sparked speculation that Farage could contest his Newark seat after announcing his resignation after being caught up in a lobbying scandal.
The speculation led to fevered newspaper headlines on Wednesday morning, with the Telegraph splashing on "Farage's by-election bid to rock Cameron" while the Times had the headline "MP's exit gives Farage his chance".
Farage was later mocked as a "chicken" by Tory MPs for deciding against standing in Newark.
A Ukip source said that Farage had ruled out standing "quickly last night" and wanted to let the speculation run, adding: "Nigel does like to tease the media."
Ben Wallace, the MP for Lancaster and Wyre, said: "That faint clucking you can here in the distance is Nigel Farage...chicken!"
While Mark Garnier, the MP for Wyre Forest, tweeted: "Nigel Farage and the Newark by-election: Man or mouse...? Pass the cheese!!! Squeek squeek..."
Ukip supporters may take comfort from the fact that the 21% of voters who say they would vote for Farage in their constituency is a higher figure than the anti-Europe party's national poll average of between 13% and 15%.
Critics, however, will point to these poll results as an example of how Ukip still seems to be a one-man band, with its leader outpolling his party.
On Radio 4 on Wednesday morning, Farage insisted the Ukip phenomenon was not just about the electoral prospects of its leader. "It's not about one man, it's not about one by-election, it's about a nationwide political movement," he told interviewer John Humphrys.
Related