The drummer from the rock band The Scorpions has been sentenced to a month in jail for offensive behaviour, media reports claim.
James Kottak was convicted of insulting Islam after raising his middle finger at a group of passengers while under the influence at alcohol, the Associated Press reports.
Citing the government-backed National newspaper, the 51-year-old was allegedly arrested while in transit at Dubai airport on 3 April.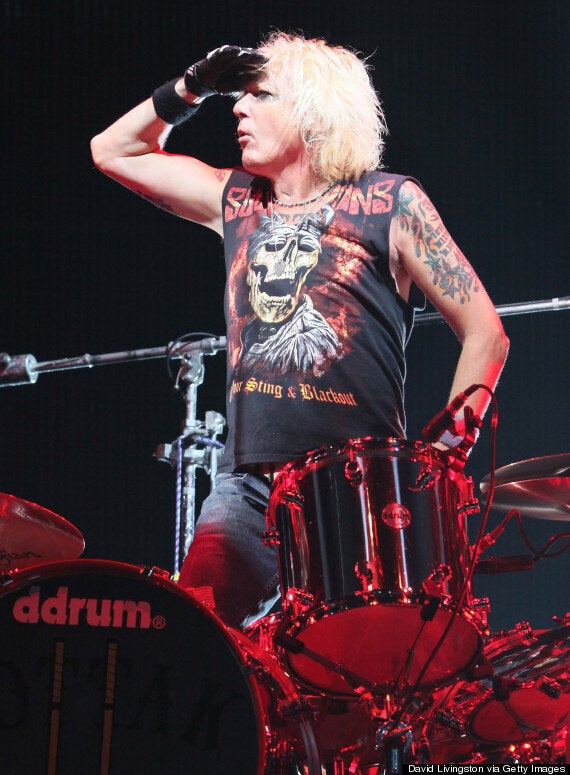 The Scorpions drummer James Kottak has been jailed for a month, media reports claim
The National quotes witnesses as alleging Kottak and a friend took a wrong turn and entered a transit hall whereupon Kottak started swearing and talking about "non-educated Muslims". It reports the drummer exposed his backside too.
Kottack admitted drinking alcohol without a licence, but denied making an indecent gesture in public and cursing Muslims, the newspaper adds.
He reportedly told the court: "I did not curse Muslims or Islam. I would never do such a thing even if I was drunk."
"Dear fans, when James Kottak arrived in Dubai at April 3th, he ran into problems at immigrations and got busted. Whatever happened is totally out of our control and we don't know any details about it at this point. For the concerts in Germany Johan Franzon, a swedish drummer, will take James seat. Please understand, we keep you posted."
The Scorpions are a German rock band which formed in 1965. Their greatest hits include Wind of Change, Rock You Like A Hurricane and Send Me An Angel.
American national Kottak joined the band in 1996.