A student sex website has been branded "absolutely disgusting" after trying to lure lecturers to sign up and sleep with their students, offering free membership fees for any who do.
ShagAtUni.com published a press release, which now appears to have been removed from the site, saying "we see no good reason why not to encourage student and lecturer relations".
In a "code of conduct" the site has created, lecturers are told: "Lots of students are looking for a LILF (lecturer I'd like to f*ck) right now, and this could boost your chances of starting a relationship.
"Try and avoid hooking up with a student you teach to avoid any discrepancies over exam results or degree grades."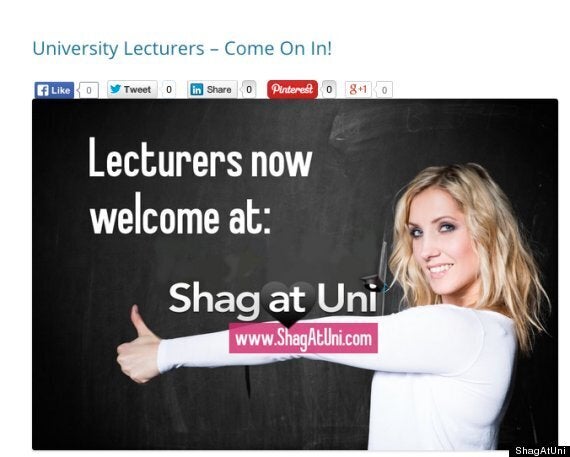 The advert seems to have since been removed from the site
The site then encourages lecturers to "tell us how many students you've bedded".
One concerned parent got in touch with HuffPost UK and blasted the site as "horrific".
"I am a concerned mother absolutely disgusted at the fact that there is a student sex website is actively encouraging lecturers to sign up to try and meet students from around the UK for casual sex.
" As the mother of an 18-year-old hopefully starting Plymouth university this summer, you can understand why this distresses me.
"There is a 'code of conduct', which encourages lecturers to take their students on dates away from university campuses.
"I think other parents who may not be as social media savvy as me [need] a chance to know about this horrific site that could be targeting their children with its indecent messages."
Abi Thomas, a student from Cheltenham, called the website "creepy".
The 20-year-old told SWNS: "I don't agree with what Shag At Uni is doing. Personally, I think there should be a line between teachers and students.
"It's creepy. Lecturers shouldn't be trawling the internet looking for students for sex.
"I know there are students who are 18 and think it's somehow cool and daring to sleep with their lecturer, but they'll probably regret it later in life, and this is just encouraging them to do it."
Popular in the Community