The daughter of rail union leader Bob Crow drew huge applause from a May Day rally when she said she is to take his place as a candidate in this month's Euro elections, following his sudden death.
Natasha Hoarau, 30, was at the head of a march in London in the traditional May 1 event, which this year honoured the former RMT general secretary and veteran political campaigner Tony Benn, who died within a few days of each other in March.
She addressed a huge crowd in Trafalgar Square as "fellow Bob-ists", adding: "He would have been so proud of the solidarity among us today. It has not been an easy time for the family, but we are comforted to see so many people displaying so much passion."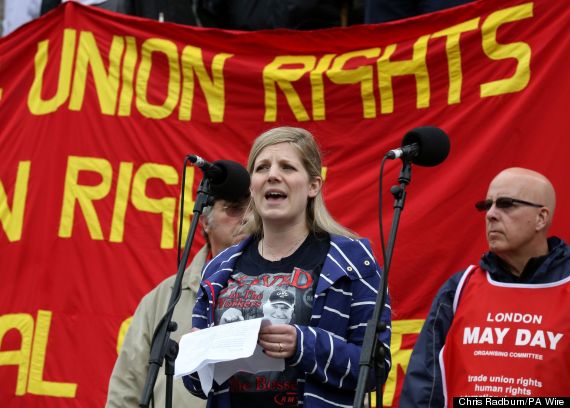 Natasha Hoarau will take her father Bob Crow's place in the European elections on May 22
She said she will think of her father every time she sees someone in a flat cap, describing him as "inspirational and courageous."
"He was also caring and gentle, and was always there for us," she said.
Mr Crow's widow, Nicky, was also at the head of the march through central London, as well as union leaders and politicians.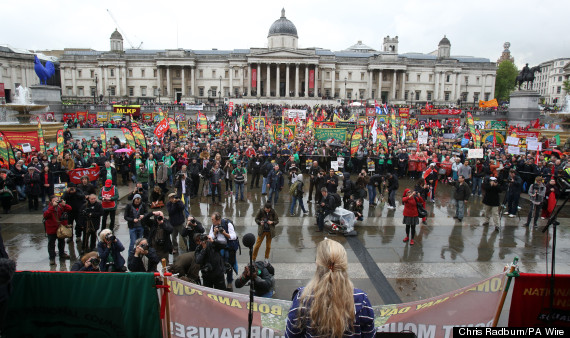 She told the May Day crowd in Trafalgar Square that she was standing in her father's memory
Many union activists on the march wore T-shirts bearing the slogan: "Bob Crow - legend. Loved by the workers, feared by the bosses."
A video of some of Mr Crow's trademark firebrand speeches was shown on a huge screen, while RMT president Peter Pinkney urged the crowds to demand a general strike to protest against the government's policies.
Tony Lennon, chief steward of the London May Day organising committee, said the huge turnout at the rally paid tribute to the "massive contribution" made by Bob Crow and Tony Benn to the fight for workers' rights, and to send out a message that the "battle goes on".