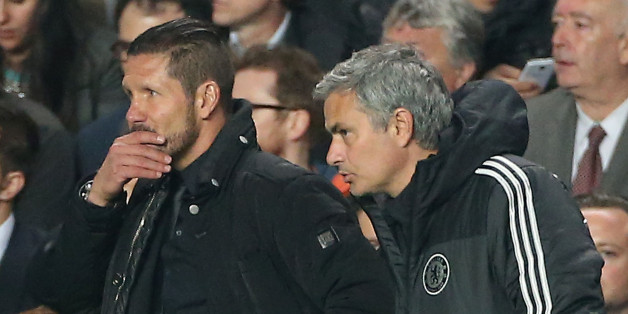 Jean Catuffe via Getty Images
With slicked back black hair, a black suit, a black jacket and a rugged stubble, it is little wonder Diego Simeone can motivate his Atlético Madrid players when he resembles a mafia hitman, and at Chelsea he fulfilled his most prized contract.
José Mourinho was unusually and refreshingly magnanimous in defeat. Chelsea have fallen short at the Champions League semi-final stage before, but have had a ghost goal and refereeing incompetence to taint their exits, but not this time. They were inferior than an indefatigable Atlético, who looked like they could run for another 90 minutes at the full-time whistle.
When Mourinho turned 44, his aura during his first Chelsea stint began to diminish, as the in-fighting and insubordination ultimately led to his sacking. At the same age, Simeone could guide Atlético to their first La Liga title since 1996 and a first-ever European Cup win. Their Lisbon date with Real on 24 May will be their first European final in 40 years.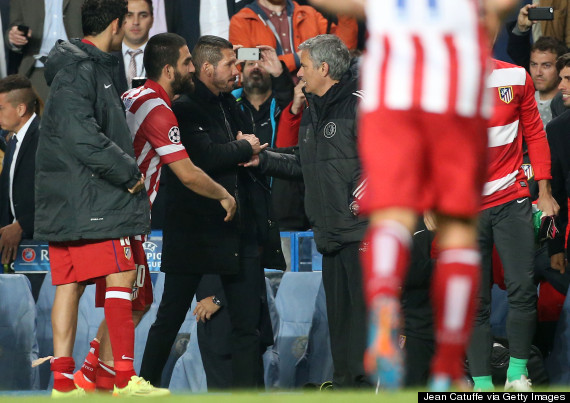 Kindred spirits: But Simeone beat Mourinho when it mattered most again at Stamford Bridge
"I would like to congratulate the mothers of these players, because they gave them big cojones to play like this," Simeone said with his final statement to applause from the Spanish journalists. Like Jürgen Klopp at Borussia Dortmund, the bond between manager and players seems unbreakable.
"The reaction to the first goal was crucial," Simeone said. "At 2-1 it settled the game and from then on we controlled the game." Simeone added the lasting memory of Atlético's semi-final win "will be that, against a world-class opponent, we controlled the game in the second half." The club sold Radamel Falcao for £50 million in the summer, but their continued rise has been stratospheric.
Mourinho did not even bother with sarcasm or spin in the press room. "Probably, yes," he replied, when asked if the two Madrid sides were the best in Europe. Real have thrived without him under former Chelsea manager Carlo Ancelotti, while Atlético lifted their Real hex with victory in Mourinho's final match at the Santiago Bernabéu in last year's Copa del Rey.
"We know each other very well," Simeone said of an all-Madrid final. "They're a very powerful club used to those big European nights. It's been many years for us as a club, so it'll be a new experience. But we're keen and excited to play well."
Despite taking the lead through Fernando Torres' deflected goal, Mourinho was serene and sanguine in defeat. He had built up to this disappointment with his pessimistic soundbites, and although only the most gullible would have taken him at his word, he had an air of justification.
Thibaut Courtois' routine save from a John Terry header at 1-1 was lauded as "impossible" by Mourinho, although that was the only debatable description in his analysis.
"We are realistic, but at the same time we are optimistic," he said. "When things go in a certain direction, there is a moment where you dream and you think that things are possible, even if things are not.
"And because we did well in the Champions League and in the Premier League, there was a moment where we felt we could do it. In the Premier League it was the match against Aston Villa that made me believe that we had no chance to be champions. After that we build again the momentum and we were waiting for the Liverpool match to be the title match, but we had another surprise against Sunderland.
"In the Champions League, it's the same. We knew that teams had more potential than us and were more ready than us to win the competition, but because you go step by step and beat Paris St Germain after a 3-1 defeat, you build your dream. And today, I think it was proved that we had our chances."