"Should I call Mom? Mom, this looks like the end of me."
These are apparently the heartbreaking last words of one of the tragic victims onboard the doomed South Korean ferry.
Haunting video footage obtained by the Korean news website Newstapa appears to capture students in what for many would be their final hours, as they struggled on board the South Korean ferry that sank April 16.
Over 300 people, a majority of of them students from a single high school, are dead or still missing.
The video contains heartbreaking pleas for help, confusion, attempts to cling to hope, and, most chillingly, calm – final – messages to loved ones.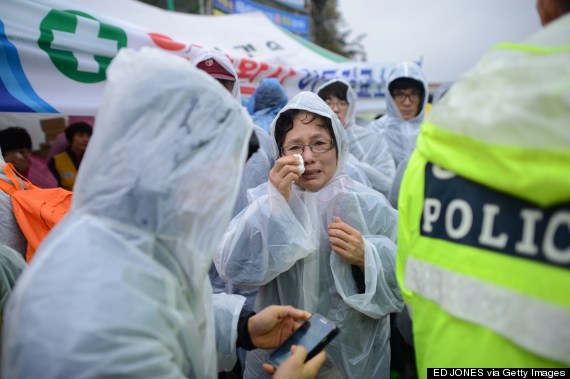 The video also contains voices of the crew on the ship's intercom, directing students and other passengers to remain in place and not abandon the sinking ship.
Presenting the video, Newstapa's Choi Seung-ho said of the videos, "This is by far the most heartbreaking scene I have seen in my 27-year broadcasting career," according to the Times.
As one of the longer videos comes to an end, a student says "I am scared."
Read more: 10 Powerful Images Of S Korea Honouring Victims Of Ferry Disaster Divers look for people believed to have been trapped in the sunken ferry Sewol in the water off the southern coast near Jindo
Other videos show students celebrating as helicopters approached the listing ship. Coast Guard video showed the ferry's captain fleeing the vessel and as the Times notes, "no officers trying to move below deck where the students were trapped."
One of the videos was released to the media by the family of one of the deceased students after officials returned possessions that included the cell phone. The father of the 17-year-old Su-hyeon said of the videos, "South Koreans must watch it to learn what went wrong," according to the Times.
The captain and 14 other crew are being detained, accused of negligence and failing to help passengers.
The tragedy has gripped South Korea, and led to the resignation of the prime minister and an apology from the president for the poor initial response to the disaster.