At HuffPost UK Lifestyle, we're major Itsu fans. Brown rice, sushi, hot pots of veggies, meat and noodles, soba noodles - we love it all.
But now we don't have to confine our Itsu fix to work lunches - co-founder of Pret A Manger and founder of Itsu,Julian Metcalfe has now come out with the ultimate 'skinny but delicious' recipe book, Itsu the Cookbook: 100 Low-Calorie Eat Beautiful Recipes for Health & Happiness.
The dishes are easy to whizz up at home, and the ones we've featured here are less than 300 calories per serving.
See Also:

A Masterclass in Japanese Cooking With Jun Tanaka

Chinese Recipes: Asian Hotpot, Sea Bass With Chinese Spice And Sweet Chilli Chicken With Garlic
Hot Soba Noodles in Mushroom Broth (serves 2)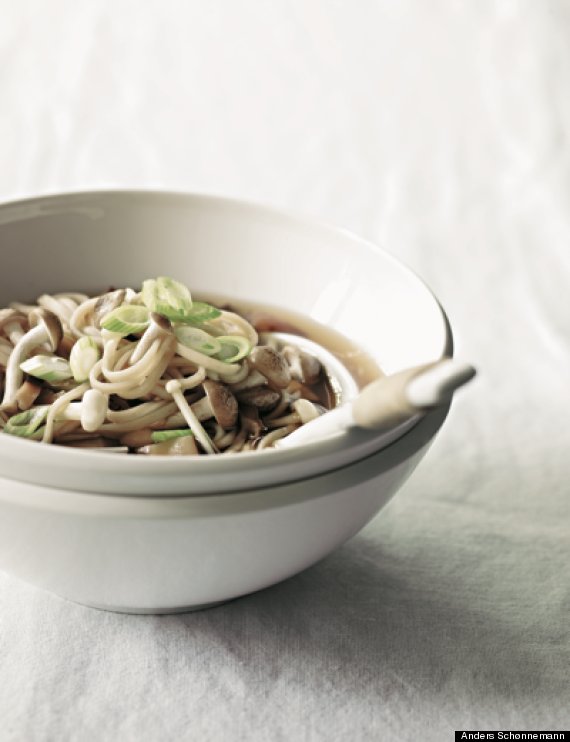 247 calories
1.1g saturated fat
1 litre instant dashi, Homemade Dashi Stock or water
10g dried shiitake or any other strongly flavoured dried mushrooms
2 tbsp soy sauce
1 tsp rice vinegar
1 tbsp mirin
100g mixture of fresh mushrooms, sliced or cut into small pieces (eg shiitake, oyster, enoki or buna shimeji – all available from big supermarkets)
70g dried soba noodles
2 spring onions, finely chopped, to garnish
Salt
Pour the stock into a saucepan and bring to the boil. Add the dried mushrooms and simmer for 10 minutes.
Strain the stock, and chop the mushrooms finely. Return both to the pan and add the soy sauce, vinegar, mirin and fresh mushrooms. Simmer for 5 minutes.
Meanwhile, cook the noodles in boiling, salted water for 7 minutes, or according to the packet instructions. Drain and divide between 2 bowls. Ladle over the stock and mushrooms, then sprinkle with the spring onions to garnish.
Nutritional tip: Soba noodles are made from buckwheat flour, which is gluten-free and full of rutin, a bioflavanoid that extends the action of vitamin C and acts as an antioxidant. Buckwheat is also high in magnesium, which helps with energy production. These noodles will keep your blood sugar levels steadier than many other carbohydrates.
LIKE HUFFPOST UK LIFESTYLE ON FACEBOOK | FOLLOW US ON TWITTER | WE'RE ALSO ON INSTAGRAM
Super Low-Calorie Smoked Chicken Salad (serves 2)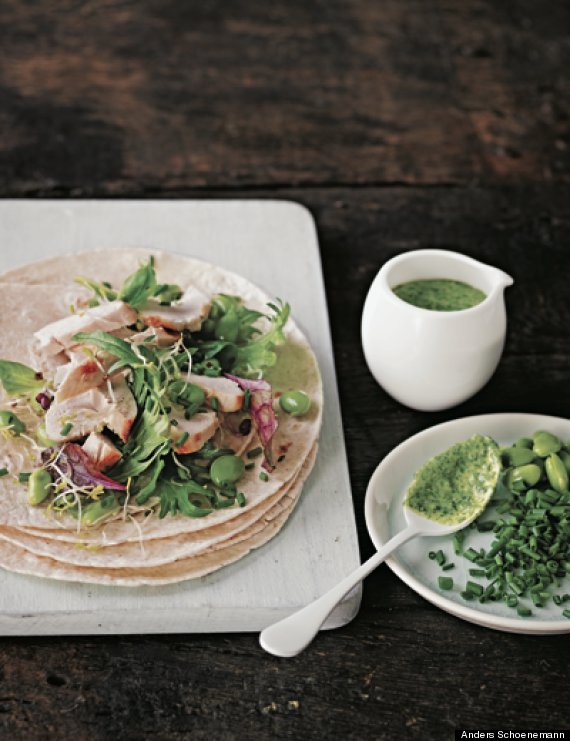 131 calories (plus 160 calories if eaten in flatbread)
1.5g saturated fat (plus 0.3g if eaten in flatbread)
150g smoked chicken breast, sliced
2 tbsp Spicy Sauce (see page 171)
100g edamame (soya) beans or green beans, topped
100g mixed salad leaves
4 tbsp Herb Dressing (see page 166) flatbreads or pitta breads, to serve (optional)
1 tbsp chopped chives
Salt
Dress the sliced chicken breast with the spicy sauce.
Cook the beans in boiling, salted water for 3 minutes. Drain and refresh under cold water.
Dress the salad leaves and beans with the herb dressing. Arrange on 2 flatbreads or pitta breads, put the chicken on top, sprinkle with the chives and then roll up. Alternatively, divide the dressed salad between 2 plates, top with the chicken and sprinkle with the chives to finish.
Variations: Ordinary grilled chicken breast can be used instead of smoked chicken. For extra protein, add a hard-boiled egg.
Steak Teriyaki Salad in Lettuce Cups (serves 2)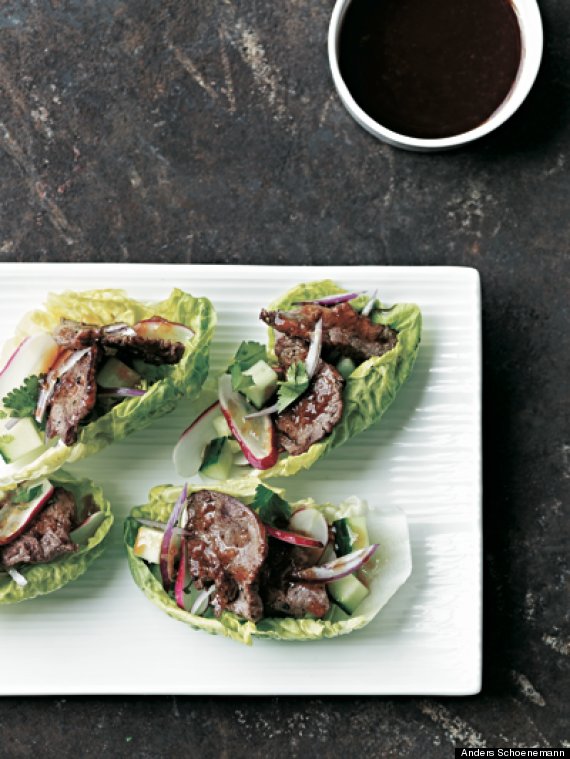 256 calories
1.8g saturated fat
2 tsp light oil, such as groundnut, for frying
100g fillet or rump steak, cut into bite-sized slivers
4 iceberg or little gem lettuce leaves
¼ cucumber, cut into small cubes
small handful of radishes, thinly sliced lengthways
½ red onion, thinly sliced
small handful of coriander, chopped
1 quantity Teriyaki & Ginger Sauce (see page 169)
salt and black pepper
Heat a frying pan until really hot. Add the oil, then stir-fry the steak pieces for just a few minutes so that they are still pink inside. Transfer to a plate and season well with salt and pepper.
Put the lettuce leaves on a serving plate and fill with the cucumber, radishes, onion and coriander. Season with salt and pepper. Add the steak pieces, pour the sauce over them and serve.
Nutritional tip: Buy smaller amounts of more expensive beef cuts like fillet, which is low in saturated fat and is a good source of anaemia-protective iron.
Hungry for mor Itsu goodness? Grab yourself a copy of Itsu the Cookbook: 100 Low-Calorie Eat Beautiful Recipes for Health & Happiness. Every Recipe under 300 Calories and under 30 Minutes to Make.