The parents of Madeleine McCann have thanked the public for their support at a prayer service on the seventh anniversary of her disappearance.
Kate and Gerry McCann were joined by around 100 well-wishers, friends and relatives for the open-air service in the centre of Rothley, Leicestershire.
The half-hour service, conducted beside Rothley's War Memorial, saw candles being lit for all children around the world who have been taken away from their parents against their will.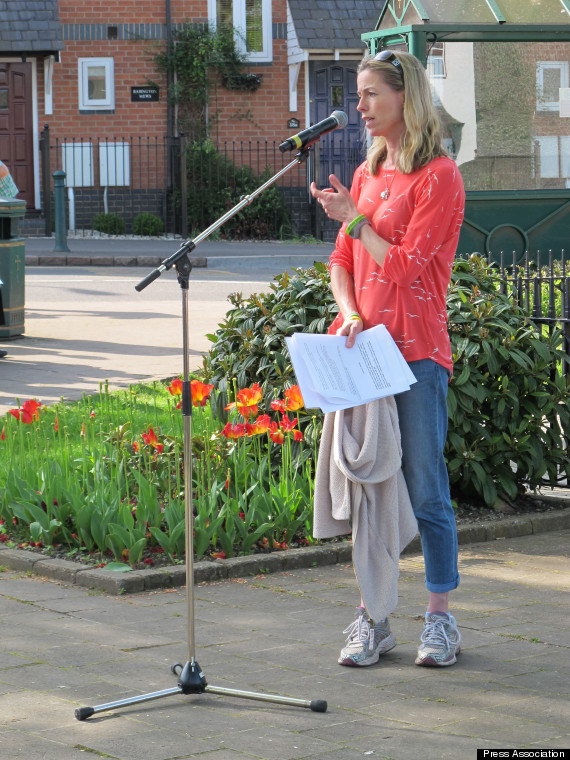 Around 100 people attended the service
Madeleine went missing on May 3 2007 aged three, part-way through a family holiday in Portgual.
During the service, led by Rothley's Anglican vicar Rob Gladstone, Mrs McCann gave a reading adapted from the words of a song.
"Here we are again, and more significantly, here you are again," she told those present. "Having your support has made a huge difference, so thank you."
Speaking after his wife, Mr McCann expressed his family's gratitude that the Metropolitan Police team investigating Madeleine's disappearance was now moving on to a "very active" phase in their investigation.
Mr McCann said: "I would just like to echo what Kate said and thank you all for coming to support us over the past seven years."
Referring to the latest inquiries into Madeleine's disappearance, Mr McCann added: "They are chipping away and obviously there is new evidence so we are going to continue to hope that we will get a happy outcome."
Speaking before the service, Mrs McCann's uncle, Brian Kennedy, said all four churches in the village had provided a tremendous support to the family.
The retired headmaster, who lives in Rothley, said local people had also been extremely supportive.
Asked how he felt on the anniversary of Madeleine's disappearance, Mr Kennedy, 75, said: "Much the same as I was seven years ago - hopeful.
"But, as Kate always says, we would just like to know something. The worst part is not knowing where Madeleine is."
Speaking earlier this week, Mrs McCann revealed that she privately returns to the Portuguese resort where her daughter disappeared to "walk those streets" and "look for answers".
She told the BBC that she returns quietly to Praia da Luz at least once or twice a year to feel close to her eldest daughter.
Mrs McCann's comments to the BBC came as she backed a revamped alert system triggered when missing children are kidnapped or their lives are at risk - known as Child Rescue Alerts.
She said: "When a child is abducted, families are devastated and entire communities are torn apart.
"The agony of not knowing where your child is is almost impossible to imagine."