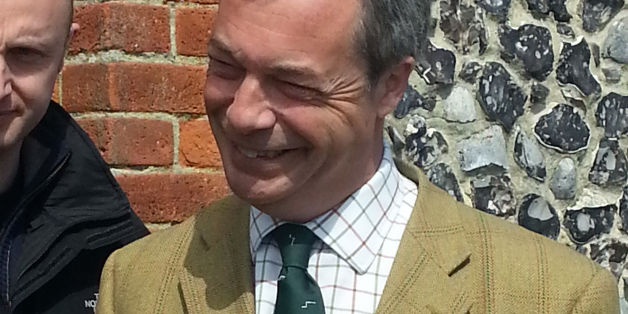 PA
He's been hit by an egg while out canvassing, called a w*****r live on BBC News, and labelled a coward by political commentators, when he decided not to fight for a seat in Westminister at the next General Election.
But at the end of a long week, Farage has not lost any appetite for public engagement.
As he launched Ukip's billboard campaign for the Euro-elections against the backdrop of the cliffs of Dover, Farage said that Ukip has "some idiots".
The party leader was responding to reports that Harry Perry, who is standing for the party in Offerton, Stockport, expressed extremist views on Twitter.
Farage said the remarks made by a council election candidate were "entirely inconsistent" with being a member of the party.
But Mr Farage claimed the media's reporting of what goes wrong in his party is "completely disproportionate".
He also defended Top Gear presenter Jeremy Clarkson over the n-word row, saying it was "just typical Clarkson".
On Mr Perry's Twitter account, @harryperry15, he calls for Pakistan to be "nuked", dubs David Cameron a "gay-loving nutcase",
Muslims "devil's kids" and homosexuality an "abomination before god", the Manchester Evening News reported.
You Can Buy A Pint Online For The Man Who Called Nigel Farage A W**ker
Mr Farage said: "I've never heard of the bloke until last night. I've no idea who he is.
"I think he comes from the north west of England. Clearly his attitude and views are entirely inconsistent with being a member of Ukip. Simple."
He added: "I could show you 14 elected councillors from the Lib Dem, Labour and Conservative parties who haven't just said nasty things they've been convicted this year of nasty things.
"And yet it never makes a national headline. I am not saying we haven't had our problems, we have.
"Every party has these kinds of problems but there is a completely disproportionate media spotlight on what goes wrong in Ukip compared to the others."
When asked what he thought of David Cameron's comments about not needing to discredit Ukip as they do a "good enough job themselves", Mr Farage laughed and said: "It was good clever politic. I'll give him that. Yeah, we've got some idiots.
"What is happening here is the establishment are singling out a handful of unpleasant comments made by Ukip people and yet the other parties do these things and say these things it would appear with impunity.
"The other thing Mr Cameron said is that I was a chicken.
"Well, I'll tell you what Dave, why don't you come on telly and do a debate with me?"
WATCH: Nigel Farage Hit With An Egg By Protester, Goes To Pub To Recover
The ukip campaign poster features a picture of the famous landmark with an escalator running up the middle and the slogan: "No border. No control. The EU has opened our borders to 4,000 people every week."
The poster adds: "Take back control of our country."
The Ukip leader believes his party's "simple" message about immigration will get the public, if not politicians, talking.
"I've been trying over the course of the last few weeks to have a national debate on this issue.
"They point blank refuse to engage with me. On Monday this billboard will be going up on hundreds of sites right across the United Kingdom, and even if the politicians don't want to discuss this issue, I think this very simple, straightforward message is going to get the public talking about it," he said.
Adding: "We may well be on the edge of the biggest migratory wave yet to come to these shores and the British Government is impotent, there is nothing we can do.
"The only way to solve this Mr Cameron, and Mr Miliband, is for the British people to have a referendum so that we can discuss this openly and vote on it."
Asked about the Clarkson row Mr Farage said: "The more controversial Jeremy Clarkson is, the more people watch his programme, and the more money the BBC makes out of marketing a show that sells globally and makes them a fortune.
"I would think it's just typical Clarkson, getting very, very close to the line of being offensive but perhaps not quite going over it," he said.