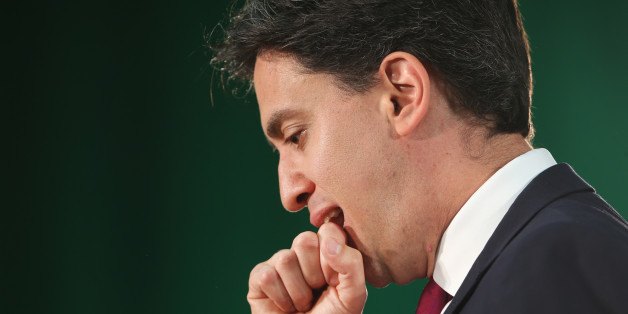 Peter Macdiarmid via Getty Images
Here are the five things you need to know on Sunday 4 May 2014...
1) DON'T CALL ME 'RED ED'
Ed Miliband appeared on BBC1's Andrew Marr show this morning, claiming Labour was the only party with "the right answers" to the problems facing Britain.
Asked by Marr whether British business was worried about his policies on energy prices and rental controls, and whether or not he was indeed 'Red Ed', the Labour leader replied: "No, this is an agenda for long-term prosperity... markets need rules." Miliband argued that "old-fashioned socialism was about wholesale nationalisation.. that is not what I am about. What I'm about is how we make markets work in the public interest."
He also took the opportunity to attack "dubious" Pfizer's proposed takeover of AstraZeneca, accused David Cameron of acting as a "cheerleader" for the bid" and called for an independent assessment" of what the Fizeer bid would have on the impact of the scientific and industrial base of the UK and a new "public interest" test on foreign business takeovers. "No other country in the world" would be nodding this bid through so complacently, claimed the Labour leader.
As for the forthcoming European elections, Miliband said he did "want to see change in Europe", but added that his priorities as prime minister would be the "cost of living crisis and the NHS" rather than whether or not the UK should stay on as a member of the EU or have a costly and time-consuming referendum.
Asked if David Cameron should resign if the Yes campaign win the Scottish independence referendum in September, Miliband hesistated and then dodged the question.
It was, overall, a decent performance - the highlight, however, came after the interview was over when he was joined by Nigel Farage on the Marr couch (see below).
2) DAVE VS NIGEL?
After taking on, and vanquishing, Nick Clegg, can Ukip's Nigel Farage now start preparing for a head-to-head with David Cameron? Is the PM really that foolish? From the Sunday Times splash:
"David Cameron is prepared to go head to head with the UKIP leader, Nigel Farage, in a televised debate before the next general election. The prime minister is willing to take part in three leaders' debates with his rivals. Under the '2-3-5' proposal drawn up by his aides, Cameron would hold one head-to-head debate with the Labour leader, Ed Miliband — the two potential prime ministers — a second, which would also include the Liberal Democrat leader, Nick Clegg, and a third with Farage and the Green party leader, Natalie Bennett. Only one of the debates would be held during the campaign, with the others beforehand. Cameron has also told friends: 'If you have Farage it makes no sense not to have the Greens as well. They have an MP.' A final decision on the format will depend on discussions with the other parties, which Downing Street does not want to begin until after the party conference season in October."
Whichever way you come at this, a debate between Cameron and Farage would do massive damage to the former and give a huge boost to the latter. "It's up to the broadcasters whether they invite Nigel," Miliband said on the BBC this morning, in a rather evasive, non-committal contribution to this particular debate. "If the broadcasters want to invite Nigel that's fine with me." He then surprised viewers by lambasting Farage directly, while sitting next to the Ukip leader, over his admiration for Margaret Thatcher and his support for pro-rich 'flat' taxes. The Ukip leader looked rather uncomfortable and tried to dodge Miliband's verbal attacks.
Speaking on BBC1's Andrew Marr show this morning, Farage admitted Ukip "had made mistakes", in terms of candidate selection, and people with "idiotic" views, and said more of them should have been "weeded" out. "We haven't got a monopoly on unpleasantness and stupidity," he insisted, however, adding: "Our election address for the local elections.. you will see a lot of black, ethnic-minority candidates proudly standing for Ukip".
Farage doubled-down on his recent, anti-Romanian remarks in the Guardian, saying people should indeed be worried if a "group of Romanian men" move in next door to them. Farage rounded off his rather nasty narrative with this odd declaration: "We are not against immigration." Could have fooled me...
3) OFF THE RAILS
First the energy companies and the banks, then the private landlords and payday lenders. Next the train operating companies? From the Observer's splash:
"Ed Miliband has come under pressure to bring the rail network back into national ownership if Labour wins the next election, as more than 30 of his party's parliamentary candidates call for a bold new policy to improve services and control train fares. In a joint letter to the Observer, the prospective MPs – many of whom will fight in marginal seats where they say the commuter vote could be crucial – argue that a policy of gradual renationalisation would allow fares to be kept under control and profits to be reinvested in services... While Miliband has said he is interested in 'innovative solutions' for the railways and is open to considering a greater degree of state control, shadow chancellor Ed Balls is said to be resistant to anything that would be portrayed by Labour's opponents as anti-business or a lurch back to the pre-Thatcher era of nationalised industries."
The Labour leader told Andrew Marr this morning that "we're looking at all the options" but wouldn't go back to old-style, state-owned, "back to the past" models. "We do need to look at how we can have a coherent system," he said.
Meanwhile, writing in the Observer, Labour's general election campaign coordinators, Douglas Alexander and Spencer Livermore, claim their party will make "the boldest, most radical offer in a generation" come May 2015, and say Labour has "moved on from the past".
BECAUSE YOU'VE READ THIS FAR...
Watch this video of the sweetest cat video you'll ever see. You know you want to.
4) SUNDAY NIGHT DEADLINE
Is the peace process in Northern Ireland on the verge of breaking down? Is the pursuit of justice clashing with the pursuit of peace? From the BBC:
"Gerry Adams is being questioned for up to 17 hours a day by detectives investigating the murder of Jean McConville, a source close to him says. The Sinn Fein leader, who denies any involvement in the killing, has spent a fourth night in police custody. Police have until 20:00 BST on Sunday to charge or release Mr Adams. The source said there would need to be a significant development for a charge. If charged he would appear at a special court sitting on Sunday or Monday. Mrs McConville, a mother of 10, was murdered in 1972."
5) WORLD WAR III?
The situation in Ukraine continues to spiral out of control. The Independent on Sunday splashes on the headline: "Putin: 'Ukraine is beyond our control'". The paper reports:
"The Kremlin said yesterday it was receiving 'thousands' of pleas for help from Ukraine, warning that it could not control pro-Russian separatists in the country and now required help to resolve the worsening violence. As Russian troops continued to conduct exercises near the Ukrainian border and the US Secretary of State, John Kerry, demanded the Russian government do more to defuse the situation or risk further economic sanctions, a Kremlin spokesman, Dmitry Peskov, was quoted as saying that Russia had 'lost its influence' over separatists in the region. Speaking in Moscow yesterday, Mr Peskov said: 'People are calling in despair, asking for help. The overwhelming majority demand Russian help. All these calls are reported to [President] Vladimir Putin'... Ukraine is scheduled to hold a presidential election on 25 May. But Mr Peskov said it would be "absurd" for it to go ahead under the current conditions of 'military action, a punitive operation and mass killings'."
Are we sleepwalking into a regional - or, dare I say - world war?
QUOTE UNQUOTE
"I would think it's just typical Clarkson, getting very, very close to the line of being offensive but perhaps not quite going over it." - surprise, surprise, Nigel Farage defends Jeremy Clarkson over the latter's alleged use of the N-word.
PUBLIC OPINION WATCH
From the Sunday Times/YouGov poll:
Labour 36
Conservatives 33
Ukip 15
Lib Dems 9
That would give Labour a majority of 32.
900 WORDS OR MORE
Matthew D'Ancona, writing in the Sunday Telegraph, says: "Is this recovery built to last, or just a Bullingdon bubble?"
James Forsyth, writing in the Mail on Sunday, says: "Forget Dave – it's Lynton Crosby who'll win it for the Tories."
Dominic Lawson, writing in the Sunday Times, says: "A political triumph, Red Ed, but an economic disaster."
Got something you want to share? Please send any stories/tips/quotes/pix/plugs/gossip to Mehdi Hasan (mehdi.hasan@huffingtonpost.com), Ned Simons (ned.simons@huffingtonpost.com) or Asa Bennett (asa.bennett@huffingtonpost.com). You can also follow us on Twitter: @mehdirhasan, @nedsimons, @asabenn and @huffpostukpol