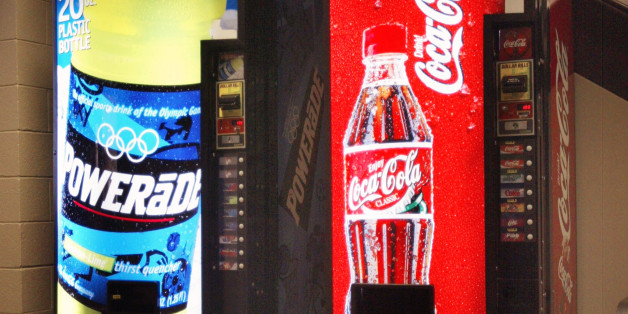 Tim Boyle via Getty Images
Coca-Cola has announced it will drop a controversial ingredient from all of its beverages.
Brominated vegetable oil (or BVO) is still being used in some flavours of Fanta and Fesca, as well as several citrus-flavoured fountain drinks.
BVO is used to stabilise flavouring oils in fruit-flavoured drinks and prevents certain ingredients from separating – but the additive is also patented as a flame retardant.
As the company began the process of removing BVO from its stable of drinks, a Coca-Cola spokesman on Monday insisted it stood by the safety of its products.
"All our beverages, including those with BVO, are safe and always have been – and comply with the regulations in the countries where they are sold," he told Newsweek.
The BBC points out BVO was dropped from the US Food and Drug Administration's 'Generally Recognised as Safe' list of food ingredients in 1970. It is not approved for use in Japan or the European Union.
However, drinks companies are allowed to use the chemical at up to 15 parts per million.
A document on the Mayo Clinic website says health concerns focus on the fact BVO contains bromine, which can build up in the body, resulting in reports of people experiencing memory loss and skin and nerve problems after drinking more than two litres a day.
One activist who has long lobbied soft drink companies to remove BVO from its drinks is Mississippi teenager Sarah Kavanagh.
In 2012 Kavanagh garnered 200,000 signatures via a Change.org petition to get PepsiCo to drop BVO from its Gatorade products.
The firm announced it had dropped the chemical from Gatorade, though it continues to use it in some varieties of Mountain Dew and Amp Energy.
The 17-year-old then targeted Coca-Cola, achieving some 60,000 signatures protesting against the use of BVO in Powerade.
Kavanagh told the New York Times: "I am really, really thrilled.
"Not only has Coca-Cola, which is such a huge company, listened, to what me and 60,000 other people had to say about Powerade, it's removing brominated vegetable oil from all its products. I think that shows that such a big company does care about what consumers think."