Steven Gerrard was on the verge of tears before he noticed Luis Suárez was so crestfallen he had buried his face underneath his shirt. Some Liverpool players had slumped to their knees on the Selhurst Park turf and some walked around aimlessly, but Suárez was so utterly inconsolable he probably did not know which of his teammates put their arms around him, as Gerrard attended to the Uruguayan.
Gerrard, wont to kissing the camera, pushed it away as he escorted Suárez towards the Selhurst Park tunnel. It was another example of Gerrard's leadership, but it is an image he will never want to see again.
"We don't let this slip," Gerrard hollered after that rousing win over Manchester City last month. The use of slip was prescient. Gerrard did just that a fortnight later to give Demba Ba a look-in before the lockdown from José Mourinho's Chelsea. It could be the defining image of this absorbing Barclays Premier League campaign, and the numerous pot shots Gerrard attempted were an admission of a guilty man.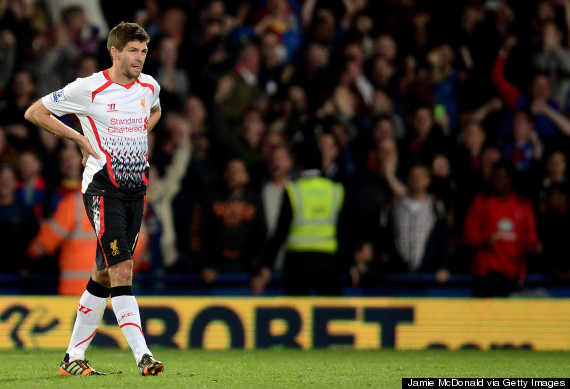 Gerrard was crestfallen at the end of Liverpool's 3-3 draw with Palace
Gerrard will battle on until the final shrill against Newcastle United on Sunday, but it would take a scarcely believable collapse from Manchester City, at home to Aston Villa and West Ham United, to throw away a second title in three years. As Liverpool gathered for their huddle on the Anfield turf following their defeat of City, everyone seemed to think it was their year.
The inevitable concession of the title could haunt Gerrard for decades, let alone years. The only medal missing from his glittering cabinet is a Premier League one, and this was (is?) Liverpool's best chance of a championship in a quarter of a century. He shed tears in victory not four weeks ago, so goodness knows how he must have felt during that drive back up the M6 last night.
Captain of his country, as well as his club, Gerrard has, this calendar year especially, invested considerable physical and mental energy into Liverpool's title challenge. Brendan Rodgers has tailored the team to accommodate his fading force in midfield and Gerrard has performed nervelessly. All 11 of his goals since January have come from dead-ball situations and the only penalty he failed to convert was for a hat-trick at Manchester United, with the game already won.
Little has changed from the European Championship in Poland and Ukraine two years ago, though. By a distance, Gerrard's best performance at a finals for England, his set-piece prowess assisted goals for Joleon Lescott, Andy Carroll and Wayne Rooney in England's group games, and he beat Gianluigi Buffon in the quarter-final penalty shootout.
As admirable as his durability is, Gerrard's worth to England is questionable. He admitted he considered retiring after the Euros and will turn 34 before the World Cup finals this summer. England supporters will sigh nationwide if both Gerrard and Lampard are listed in Roy Hodgson's 23-man squad, 10 years after they began to subordinate each other at the Portugal Euros.
Gerrard, though, is certain to go to Brazil, unlike Lampard. Roy Hodgson entrusted him with the captaincy following Stuart Pearce's snub in favour of Scott Parker for his caretaker stint against Holland two years ago, and Gerrard's former Liverpool manager has renewed his appetite for international football.
England's forward six for the visit of Denmark in March included Gerrard's club colleagues Jordan Henderson, Raheem Sterling and Daniel Sturridge; an explicit signal Hodgson is considering adopting Liverpool's energetic blueprint for the Brazil finals.
But England coaches have indulged players excessively in the past before. David Beckham's prolonged presence in the team hindered England's World Cup chances in 2006 and Fabio Capello stubbornly shoehorned Gerrard and Lampard into his 11. Hodgson is not blessed with proven central midfielders, yet he does have ebullient and emerging talents who could offset a potentially incapacitated Gerrard in south America.
Heat could be a factor for 24-year-olds, let alone a 34-year-old. The Manaus opener against Italy on 14 June could be unforgiving, and Gerrard will have played close to 50 matches for club and country this season by then.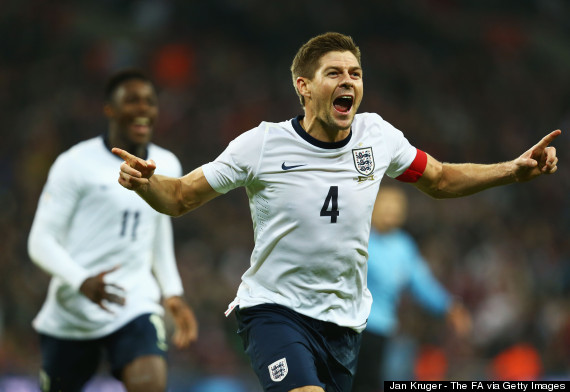 Gerrard scored the goal which clinched England's World Cup qualification
Hodgson should also be mindful of Gerrard's spell out of the Liverpool line-up over the Christmas and New Year period, too. Liverpool arguably performed better without Gerrard at Tottenham and Manchester City, while they were unfortunate at Chelsea. Rodgers will doubtless point out two of those matches ended in defeat, but the Christmas period is a reliable indicator of a squad's strength and Liverpool's is not strong enough. Australian Brad Smith played at Stamford Bridge in December.
Aston Villa's fickle youngsters left Gerrard dizzy as recently as January, too. Most teams have not put Gerrard under pressure this season, or have not had the chance. Liverpool's merciless starts have won numerous matches inside 20 minutes and Gerrard has often coasted on autopilot. On other occasions, such as Liverpool's 3-0 destruction of Manchester United or the 4-0 thrashing of Tottenham, the opponents were gutless.
Gerrard came second to Luis Suárez in the Football Writers' Association's player of the year poll on Monday. A sentimental vote, he is not even in the top three Liverpool performers this campaign and his resurgence has been overstated. The revisionism was augmented by Rodgers, who has rarely eulogised about a player so effusively.
Psychiatrist Steve Peters has aided Gerrard's mini resurgence this year. His cousin was killed in the Hillsborough tragedy and the 25th anniversary, understandably, has evidently weighed heavily on him. He clarified those tears shed in the aftermath of the City win were attributed to Liverpool commemorating the tragedy, rather than the triumph, and he was on breaking point again at Selhurst Park on Monday night. England are, unfortunately, accustomed to tears.