The Islamist terrorists Boko Haram have kidnapped more than 200 schoolgirls in Nigeria with apparent impunity and have now threatened to "sell" them under instructions from God.
The kidnapping is only the latest in an escalating series of attacks by the group on Nigeria's government, military and civilians which led the US State Department to formally designating them a terrorist organisation last year.
Boko Haram - which means "Western education is sinful" - is only a nickname. Their preferred name is Jama'atu Ahlis Sunna Lidda'awati Wal-Jihad, which means "people committed to the propagation of the prophet's teachings and jihad. Boko Haram translates as 'Western education is sinful'
The group was founded in 2002 in Nigera's northeastern Borno district - where the schoolgirls were also taken - and committed to creating an Islamic state in Nigeria, where sharia courts would dispense criminal justice.
But it was not at first explicitly committed to violent overthrow of the Nigeria government. It initially only advocated abstaining from it, according to the Council on Foreign Relations.
In 2009 amid clashes between Christians and Muslims, the group launched attacks in the northeastern city of Bauchi, after the arrest of its members, that killed around 50 people.
In July of the same year, a refusal by Boko Haram to follow a new motorcycle helmet law - and the police's response to it - sparked an uprising that was suppressed by the army and killed more than 800 people. The group's spiritual leader, Mohammed Yusuf, was shot dead while being detained by police.
US academic Paul Lunard said Boko Haram became "an Islamist insurrection under a splintered leadership" in the aftermath of this unrest.
There followed a campaign of assassinations and violence. In 2011, it co-ordinated a bombing campaign against two police stations and a church that killed 11 people.
In July of that year, Boko Haram carried out what was reported to be Nigeria's first suicide bombing, when one of its members blew himself up in the car park of the police headquarters in the capital Abuja.
As the campaign escalated, analysts suggested Boko Haram was falling under the influence of al-Qaeda in the Islamic Maghreb (AQIM), in the style and severity of its attacks.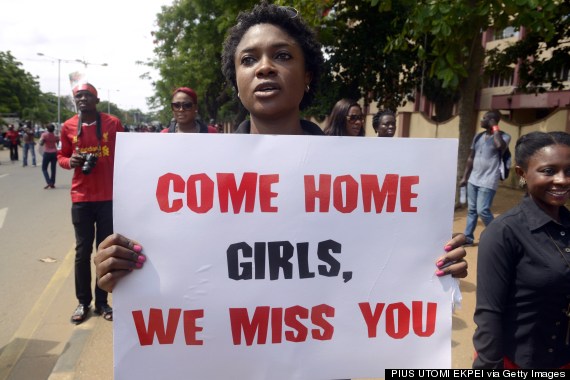 The mass abduction of schoolgirls prompted protest demonstrations
They said the influence of AQIM, which seeks to overthrow the Algerian government, could be seen in Boko Haram's murder of 65 students at an agricultural college, when it burst into a dormitory and opened fire as they slept in September 2013.
In one attack the same year, the group captured a group of truck drivers and beheaded them with chainsaws.
Lizzy Donnely, a research fellow from Chatham House, has said it has become increasingly difficult to say what Boko Haram's objective was, with some seeing it as a successionist movement for the country's north-east rather than one determined to bring about sharia law.
Speaking to The Economist, she said "heavy-handed assaults" by the government in the northeast could push young men to join Boko Haram.
Writing for The Guardian after the abduction, she said Boko Haram appeared to be "unimpeded and undaunted".
On Tuesday, it was claimed the group had taken another eight schoolgirls, aged between 12 and 15.
The missing girls - understood to number 276 - are believed to have transported to Sambisa forest, a stronghold for anti-government insurgents, while some believed they could have been taken to Cameroon or Chad, NPR reported.
The government claims not to know where they are, prompting concerns about their ability to handle the situation.
Since 2008, the US has regarded much of Nigeria as lawless and its president Goodluck Jonathan had to publicly deny last year that it was a "failed state".
The country has been described as the "global capital of kidnapping" - a quarter of the global total happen there.
AQIM - the group believed to be inspiring Boko Haram tactics - are said to have raised over $100m in the last decade from hostage taking.