Boko Haram launched a grisly attack on a Nigerian village, killing hundreds in Nigeria's northeast, according to reports.
The brutal slaughter of an estimated 300 villagers took place in a town left unguarded during attempts to rescue missing schoolgirls, Aljazeera reported.
The hours long assault on Gamboru Ngala victims were reportedly burned alive, in the latest in a series of brazen attacks and abductions by Boko Haram, raising concern about whether the Nigerian government can retake control of the region from the entrenched terror group.
The attack came as Britain announced it was sending a team of team of experts to join the hunt for the 276 girls who went missing from a boarding school in the village of Chibok in Borno state, north Nigeria, on April 14.
A further 11 girls, aged 12 to 15, were taken from the northeastern village of Warabe on Tuesday.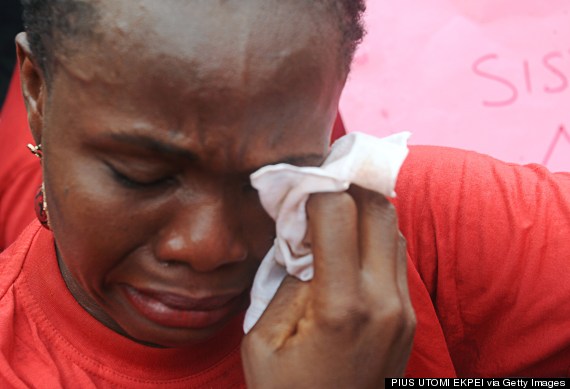 A mother of one of the missing Chibok school girls cries during a rally pressing for the release of the girls
Who Are Boko Haram? The Islamist Terrorists Who Have Kidnapped More Than 200 Nigerian Schoolgirls
Downing Street revealed British security experts would be joining teams from France and the US in trying to find the girls after David Cameron condemned the kidnapping as "pure evil," speaking in the Commons Wednesday.
The team has been drawn from Whitehall departments including Defence, International Development and the Foreign Office.
Speaking at Prime Minister's Questions Cameron said: "I'm the father of two young daughters and my reaction is the same as every father or mother in this land or the world.
"This is an act of pure evil, it has united people across the planet to stand with Nigeria to help find these children and return them to their parents.
"The Foreign Secretary and the British Government have made repeated offers of help to the Nigerian government since the girls were seized." Boko Haram's leader Abubakar Shekau has claimed responsibility for the mass abductionthreatening to "sell your girls in the marketplace" and hinting that he would kill the girls and sell their body parts, in a chilling video message released by the group.
Nigerian Police are now offering a £300,000 reward to anyone who can help them find the missing children.