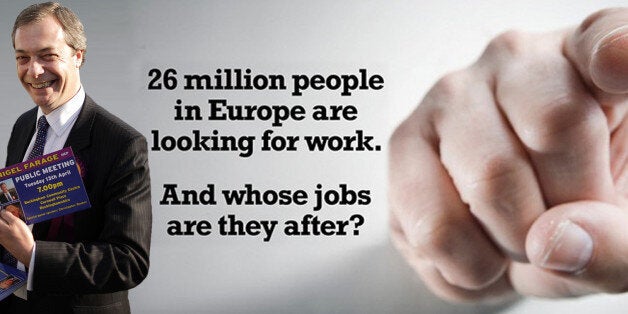 Ukip has defended their decision to employ Eastern Europeans to distribute election leaflets, despite the party regularly warning that EU migrants threaten British jobs, as the firm offered "the cheapest possible price".
On Wednesday, the Huffington Post UK revealed that Ukip had used a door-to-door distribution firm, which employed Eastern Europeans to hand out the party's leaflets.
Today, after initially refusing to comment, Ukip admitted that the company had been contracted to distribute leaflets for two council election candidates in New Addington, Croydon. HuffPostUK understands that three Eastern European men went out giving out leaflets for the party on Tuesday.
"As long as the company is fully legal then there's no need to do any more regulation on who they actually employ.
"Ultimately what this is doing is highlighting the problem we're trying to raise, which is this company is having to employ Eastern Europeans because they are not allowed to employ people from outside the EU."
When asked whether Ukip was in fact contributing to that "problem", Staveley said: "I don't believe we're contributing to it. The company would exist anyway."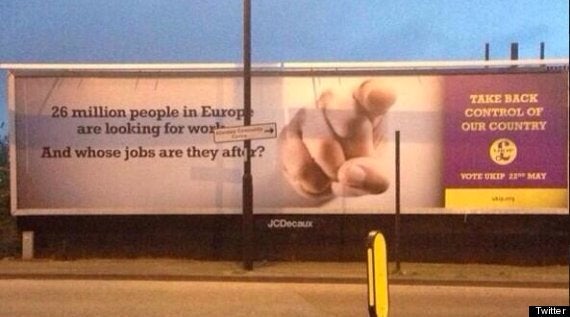 The party's posters also declared that "British workers are hit hard by unlimited foreign labour".
Politicians from other parties seized on the leafleting revelation, Tory MP for Croydon Central, declaring that Ukip's hypocrisy "knows no bounds".
He added: "They say they are against Europeans taking our jobs and then, when they have a chance to offer some British people work delivering their leaflets because they can't find volunteers to do it, they employ European workers. You couldn't make it up!"
London Liberal Democrat MEP Sarah Ludford said: "I'm sure the irony will not be lost on those who've been duped by Ukip's misleading rhetoric on EU freedom of movement in recent months.
"Ukip can't deliver leaflets and they certainly can't deliver EU reform, in fact it seems the only thing they can deliver is a fatal blow to our economic recovery by pulling out of Europe altogether."
Farage was challenged by the BBC's political editor Nick Robinson, who asked him: "Is your wife taking somebody else's job?"
The Ukip leader replied: "No, because I don't think anyone else would want to be in my house at midnight going through emails and getting me briefed for the next day.