A single man appearing on a Turkish TV dating show chose his moment in the limelight to casually reveal he had killed both his former wife and subsequent lover.
Sefer Calinak told Flash TV's Luck of the Draw had had served prison sentences for both of the murders and had been released under an amnesty programme, Reuters reports.
The 62-year-old insisted he had been a victim of "destiny" and revealed: "I'm an honest person looking for a new wife."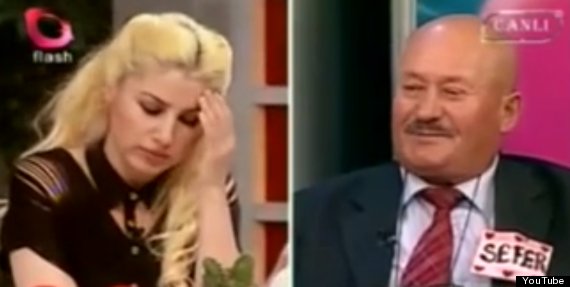 The host holds her head in her hands as Sefer Calinak cheerfully admits killing two former lovers
But it didn't wash with the host, who asked him to leave as the audience broke into applause.
"Women left me after I told them that I murdered my previous two wives. That's why I openly told them. I spent 14 years in prison. I have changed my ways," Sefer Çalınak told daily HaberTürk after the program.
"The woman who will marry me should not be afraid of me killing her."
According to Hurriet Daily News, Calinak killed his first wife after: "The nephew of the man who wanted to marry her started to come to our village. I was jealous and I killed her, in a way."
After serving part of his sentence he remarried, but later separated from his new wife.
He then embarked on an affair with a married woman who swore she would leave her husband for him.
Calinak claims she went back on her word, stating: "I killed her after she attempted to kill me. She was accidentally killed when I swung the axe."
One of the show's producers told the Turkish paper Milliyet that they were aware of one murder before the show, but allowed him to participate anyway since he had served his time.
No word yet as to whether Calinak has found a new love.