The phrase "no room to swing a cat" springs to mind on first glance of this particular des res.
The Earl's Court studio flat comes equipped with bed, fridge, hob, shower and microwave oven – all crammed into little more than a cupboard space.
Intriguingly, there is no mention of a toilet (go in the shower? The sink?) but all this could have been yours for the handsome fee of £563 a month.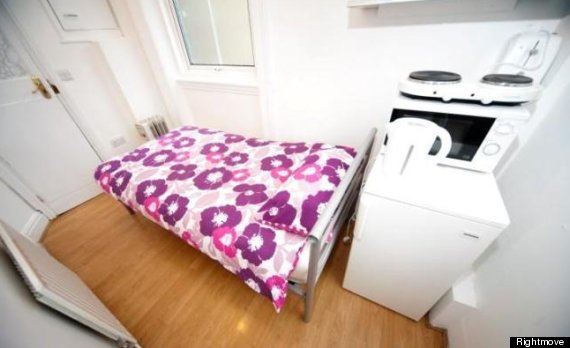 Some mod cons
Situated within walking distance of Imperial College it's no surprise it's already been snapped up in time for the start of term by one very keen student.
SEE ALSO: Squalid, Filthy And All Yours For Just £115,000 (PICTURES)
A spokesman for RightMove confirmed to Huffington Post UK on Friday that the property is now rented after just three days on the market.
Hope they haven't got much stuff…