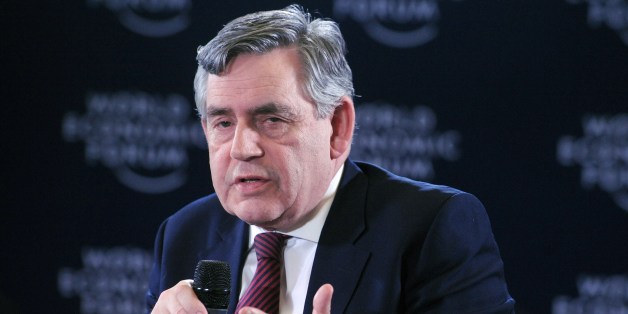 PIUS UTOMI EKPEI via Getty Images
Here are the five things you need to know on Friday 9 May 2014...
1) CAN GB SAVE GB?
Gordon Brown is back. The Times has the story:
"Gordon Brown is to become more heavily involved in the campaign against Scottish independence after being identified as a 'star striker' to persuade undecided voters to back the Union in the September referendum. The former prime minister is a staunch supporter of keeping Scotland in the UK, but has so far had only limited involvement in the cross-party Better Together campaign... His absence has been blamed on a frosty relationship with Alistair Darling, his former chancellor, who is leading the alliance. Mr Darling has said Downing Street unleashed 'the forces of hell' on him in 2008 after he made a grim prediction about the severity of the recession under Mr Brown... 'You don't necessarily play your star striker right from the beginning,' one source said . 'Gordon is hugely respected in Scotland and his comments carry a lot of weight. You will be seeing a lot of him between now and September.'"
GB better get on with it - all the recent polls show that the Yes campaign is narrowing the gap with the No campaign. And if he can help pull off a victory for the anti-independence side, he could rescue his political legacy in the process, too.
2) HERE COMES THE TAXMAN
The Telegraph, Mail and Express all splash on the new power to raid bank account that's been given to HMRC - from the Express:
"Plans to let the taxman take cash out of people's bank accounts without their permission were condemned by MPs last night. They said HM Revenue and Customs had a track record of blunders but customers wrongly accused of owing tax would be powerless to prevent their money being seized. HMRC wants the power to seize money from any account including ISAs and joint bank accounts even if one partner owes nothing. In a scathing report, the Treasury Select Committee said the proposal caused them 'considerable concern' and accused the Government of trying to rush the change through."
The Mail points out that "the taxman is demanding powers to seize money from couples' joint bank accounts – even if one partner owes nothing".
Could we see a pasty tax-esque U-turn on this from the chancellor George Osborne?
3) 'IT'S OFFICIAL: THE GREAT RECESSION IS OVER'
That's the splash headline on the front of the Times which will bring a smile to Osborne's face (in contrast to the Telegraph, Mail and Express splashes):
"Britain's six-year Great Recession will be declared over today when one of the country's leading economic bodies says that the ground lost in the financial crisis has been recovered. The monthly estimate of growth from the National Institute of Economic and Social Research will show that GDP is back at, or just fractionally short of, its March 2008 record. 'We are incredibly close to the pre-recession peak. Whether we make it in the April estimate will be a matter of 0.1 per cent,' Jack Meaning, a research fellow at the institute, said. The official figure will be published this afternoon."
While the Times story concedes that this has been the slowest economic recovery on record it conveniently omits to mention a rather key fact: other major industrial economies such as Germany and the United States long ago reached - and exceeded their pre-recession peaks. We've only just caught up now - oh, and as for GDP per capita, we're still around three or four years away from reaching our pre-recession peak. So, perhaps we should resist the self-congratulatory pat on the back, eh?
BECAUSE YOU'VE READ THIS FAR...
Watch this video of a pizza-eating hamster.
4) IS DAVE PLAYING THE 'ORANGE CARD'?
How worried is Dave about winning a majority next year? Quite worried, if you believe the story on the Guardian front page:
"David Cameron hosted a lavish reception in the Downing Street garden for Northern Ireland's Democratic Unionists last week, prompting senior party figures to say the prime minister is wooing its MPs ahead of a possible hung parliament where their support could be crucial to his survival. In a move that may prompt claims that he is prepared to play the 'Orange card' if he fails to win an overall majority in next year's general election, the prime minister paid court to the party's eight MPs, who could hold the balance of power in a hung parliament."
It feels like we've gone back in time - remember how John Major had to rely on the Ulster Unionists to try and maintain his majority back in the mid-1990s?
5) WITH FRIENDS LIKE THESE
The Americans seem to have gotten a taste of their own medicine - and, that too, from a country which it considers a close ally and which it protests in international forums - from AFP:
"Israel spies on the United States more than any other ally does and these activities have reached an alarming level, Newsweek magazine reported on Tuesday. The main targets are US industrial and technical secrets, the weekly said, quoting classified briefings on legislation that would make it easier for Israeli citizens to get visas to enter America. Newsweek said a congressional staffer familiar with a briefing last January called the testimony 'very sobering ... alarming ... even terrifying", and quoted another as saying the behavior was "damaging.' 'No other country close to the United States continues to cross the line on espionage like the Israelis do,' said a former congressional staffer who attended another classified briefing in late 2013, according to Newsweek."
Oh dear...
PUBLIC OPINION WATCH
From the Sun/YouGov poll:
Labour 35
Conservatives 34
Ukip 13
Lib Dems 8
That would give Labour a majority of 6.
900 WORDS OR MORE
Lord Sainsbury, writing in the Guardian, says: "Pfizer's takeover of AstraZeneca must be blocked."
Philip Collins, writing in the Times, says: "Ed will never have the look of a prime minister."
Fraser Nelson, writing in the Telegraph, says: "Vladimir Putin could drive an army through the gaps in Britain's defences."
Got something you want to share? Please send any stories/tips/quotes/pix/plugs/gossip to Mehdi Hasan (mehdi.hasan@huffingtonpost.com), Ned Simons (ned.simons@huffingtonpost.com) or Asa Bennett (asa.bennett@huffingtonpost.com). You can also follow us on Twitter: @mehdirhasan, @nedsimons, @asabenn and @huffpostukpol