Ian Beale is currently planning his daughter's funeral in 'EastEnders', after her shock murder last month, however things aren't going smoothly for the businessman.
Shortly after Ian visits his ex-wife Jane at her brother's flat in Birmingham, Jane reveals to Christian that she's not sure if she can face attending the funeral.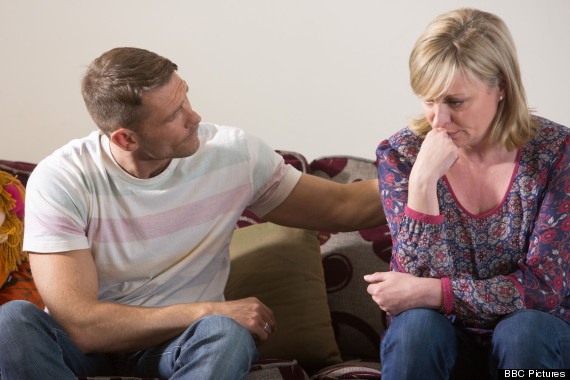 Jane is comforted by Christian
Jane was in Albert Square when the murder took place, making her one of many suspects, and her difficulty dealing with the funeral will increase speculation as to whether she was responsible.
Despite doing her best to help Ian and his family, Jane is still struggling to cope with Lucy's death - will she be able to face joining mourners at the funeral?
We've already had a sneaky look at snaps from the emotional send off and it appears as though Jane won't be joining Ian to say goodbye.
There has been plenty of speculation over who killed Lucy, though fans won't find out who was responsible until February 2015.
Ben Hardy, who plays Peter Beale, thinks he has a good idea of who isn't the killer, though the cast themselves won't find out who's guilty of murder as producers are filming 15 different endings.
LIKE US ON FACEBOOK | FOLLOW US ON TWITTER