Rolf Harris sent a card to a girl he is accused of abusing that said "when it comes to having sex, if at first you don't succeed, beg", his trial has heard.
The card, which was seen by the jury at Southwark Crown Court, had the picture of a dog on the front which also said: "Everything I learned in life, I learned from my dog."
Harris, who denies 12 counts of indecent assault, also wrote an eight-page letter to the father of a girl he allegedly abused, begging his forgiveness, the trial heard.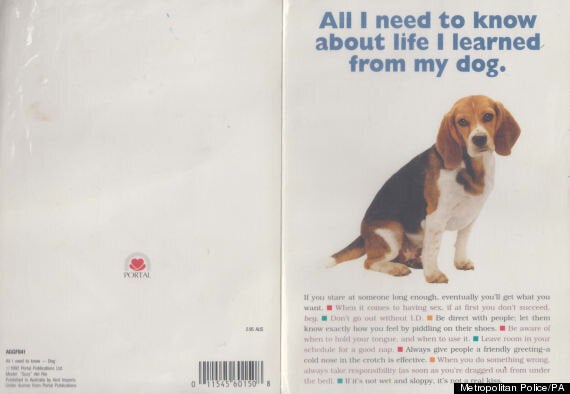 Harris sent this card to his alleged victim, his trial heard
'With your permission I'll phone you in a week to talk to you. If you hang up, I will understand, but I would like to talk to you to apologise for betraying your trust and for unwittingly so harming your darling," the letter said.
He also wrote "please forgive me" and signed it "Love, Rolf x"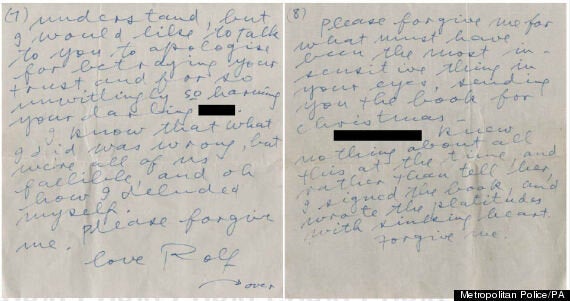 The trial also heard he sent this letter to an alleged's victim's father
Also on Tuesday, the trial heard a victim of Harris "flirted" with him because she was jealous that his daughter had become closer to another friend.
Jurors were told that the woman flirted with the veteran entertainer, encouraging him to sit on the bed she was in as he brought her a cup of tea.
The woman is named on seven of the 12 indecent assault charges he faces.
"Sexual chemistry" developed between them, leading to consensual sexual encounters, it was claimed as the woman faced cross-examination.
The woman, who was a friend of Harris's daughter Bindi, has claimed the star abused her at age 13, saying he assaulted her on a holiday in Hawaii.
His defence barrister Sonia Woodley QC said the girl became jealous after she and Bindi drifted apart when the Harrises moved away, and also because of Bindi's friendship with another girl.
Woodley said on one occasion the woman actively flirted with Harris, guiding him to sit on the bed she was in.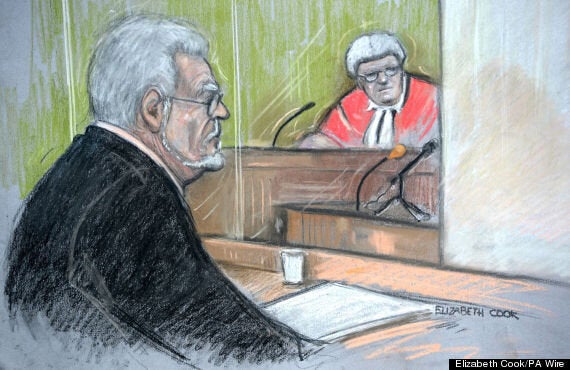 Rolf Harris denies 12 counts of indecent assault
She said: "You and Bindi were drifting apart, partly because of the distance between where you both lived and partly, I suggest, because of your jealousy over her friendship with Karen."
She added there had been "sexual chemistry" between the pair.
The woman replied: "No, no sexual chemistry at all."
Earlier in the trial, Woodley asked the woman: "Your mother apparently told you never to trust a man with a beard?"
The barrister asked: "Did you ask her why she said that?"
Woodley went on: "Rolf Harris never said anything to make you scared of him did he?"
The woman answered: "It was just his presence."
On Tuesday, Woodley asked the woman why the diary she kept at the time showed "no hint of unhappiness", with her saying she had a "great" day with the entertainer and his family.
The alleged victim was taken through diary entries from the trip to Hawaii in 1978, where she spent two full days.
Woodley asked her: "No mention in the diary or any hint of anything which had happened to you at the hands of Rolf Harris, is there?"
She replied: "I wouldn't have put it in the diary."
The woman went on: "I would have made it sound better in the diary."
When asked whether the holiday was happy, she replied: "Basically, yes it was."
Her entry for the first full day there, December 20, said: "Today was great because we went on the beach and went swimming."
Woodley said that there was "no hint of unhappiness" in the notes, and put it to the woman that she could be "stubborn, wilful and argumentative" as a teenager.
She cited a phase when the woman refused to eat anything other than Marmite on toast and roast dinners, and the court heard that she ticked off items in the Harrods catalogue that she wanted for Christmas from her parents.
The alleged victim, who was a friend of Harris' daughter Bindi, denied that she would tell her mother to "fuck off" or "piss off", and swear at Bindi and throw books at her if she woke her up early.
Woodley said: "If Bindi had woken up early and started talking to you, you would be very grumpy and start swearing at her."
The woman told the jury: "I was not good in the mornings. I wouldn't swear at her, I would just be grumpy. I wouldn't throw a book at her head, I would throw a pillow."
The woman said that despite thinking Harris was "creepy", she wanted to go on the holiday to be with Bindi.
Harris, wearing a light grey suit with a white shirt and dark tie, listened to her evidence with the aid of a hearing loop, at times reading court documents.