Answering all our prying questions about what makes a modern man, what rugby players really chat about in the changing room and how he juggles such a hectic career, let's hear it for James...
You started your career early - at the age of 18 - did you always know sport is what you wanted to do?
I never wanted to be a rugby player or indeed play professional sport. I actually wanted to be in the SAS or SBS. Or be an actor or drive a JCB digger all day. It was only when I played at Twickenham for my school Wellington College in the Daily Mail Cup at u-15 did I get a taste for being a rugby player.
The rest as they say is history, although it certainly wasn't the smoothest of paths!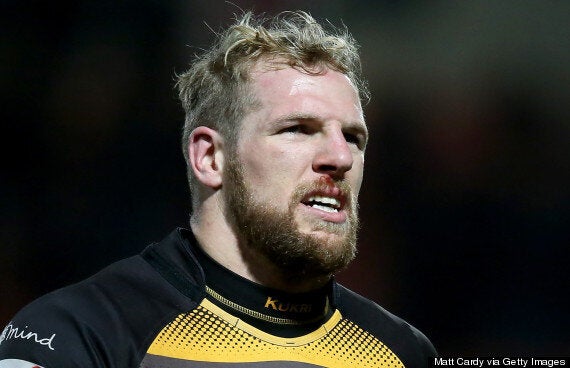 How did you cope with success at such a young age?
It's odd but what you may see as success I don't see it as that! Sure I have enjoyed some highs and put down a few markers but in all honesty I don't feel like I have been successful. I am still very much striving to achieve that ambition.
Being a full-time professional sportsman you don't really have the luxury or time to sit and reflect on what you may have done. It's all about moving forward to the next game.
Tell us something about rugby players that people don't know
We spend a lot of time sitting around drinking coffee and making each other laugh, mainly at the expense of one or other of our team mates. Not many 'normal' people would survive in a club environment.
They would be on the phone to the HR department before you know what's happening. Plus despite their alleged superior intelligence to their footballing counterparts, rugby players are always the sharpest as these bon mots overheard in the changing room reveal:
"You should always go to other people's funerals otherwise they won't come to yours"
"If your parents never had children, chances are you won't either"
"You guys line-up alphabetically by height"
"The doctors X-rayed my head and found nothing"
You are part of a really masculine sport - what qualities do you think young men should have in the 21st century?
Confident, educated, athletic, healthy, well read and well-informed.
What's an average day or week like for you?
My weeks are pretty full on to be honest. They are front-loaded so they taper down towards game day on the weekend. I start every day at 6.30 am and finish training with the Wasps around 2pm. These sessions consist of either weights or rugby sessions.
My personal workday starts post-Wasps training, which is focused on either filming or preparing for the show I present about the UFC, filming for my own TV channel BodyFire TV or working for my fitness business JHBodyFire.
This is actually a full-time job on its very own.
Then there are also all the other little bits here and there which pop up, like dinner speaking engagements and charity work. I'm also the face of the award-winning RNLI's – Respect the Water campaign.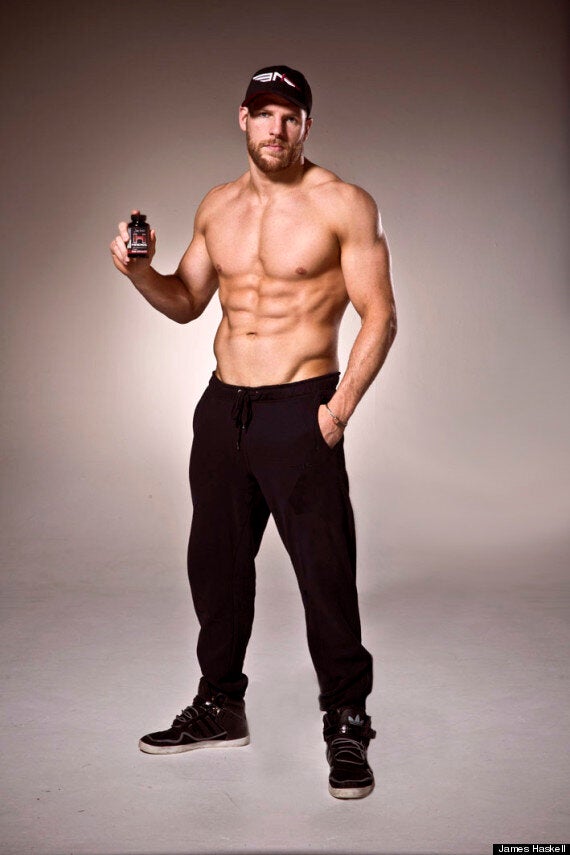 Talk us through your diet and training regime
My diet is a key to everything that I do. I eat six times a day, starting off with a meal of steak and nuts. Then every other meal is made up of 200g of chicken, meat or fish. 300g of good carbs and unlimited vegetables. I use a couple of supplements, fish oil, virgin coconut oil (Tagaloa my own developed version) glutamine and my pre trainer Hades. Understandably the fish oils and glutamine will be two of the new supplements we will be launching shortly.
I do on average two to three weight sessions per week. three full rugby sessions per week. I then may do a couple of extra training sessions per week with either Phil Learney or Travis Allan. These are strength and mobility focused.
I also very often do a mixed martial arts (MMA) session with one of the fighters I am interviewing for my UFC show.
What do you like to do on a day off? How do you blow off steam?
I don't actually really ever get a day off because of all my work commitments. However if I am going to let my hair down, I'll go for a coffee with friends, have a massage, edit some videos for my YouTube channel or write some articles for my various columns.
Hardly a wild time but then being a professional sportsman is unfortunately a 24/7 occupation. I do love house music and I am trying to learn to become a DJ, which is always good fun.
You also have your own business - how on earth do you have time?
If I gave you a full account of all the work stuff I have going on you would think I am mad. I get a lot of stick from my teammates about doing too much, but it's what I like to do.
I am a workaholic and it kind of runs in my family. You only get one shot at life, so make the most of it. I am proud of what I have created and want to make the very best of it.
What is BodyFire and what made you come up with it?
Since becoming a professional rugby player people have always commented on my physique and asked me what I eat, when I eat. How I train and so forth. I tried to individually answer all the questions but this almost became a full time occupation.
So when I was in New Zealand playing Super 15 for the Highlanders I set up JHfitness blog to make a structured platform through which to collectively respond to all the questions. Following over 480,000 hits to the blog in about 4 months, this morphed into BodyFire when I returned to the UK.
We don't decry what others do or preach because we don't need or want to. There are no miracles to be had, aside from hard work and commitment; in essence there is only doing and not doing.