Businesses can improve staff productivity and pay by emulating the type of model set out by the John Lewis department store, a think-tank has said.
In a new report, the Institute for Public Policy and Research suggested that firms could copy John Lewis' co-operative business model, which sees staff share in the department store's annual profits and have a greater say in what the firm does.
The think-tank proposed a nationwide scheme of tax incentives for firms that adopt a profit-sharing model, which would be paid for by cancelling a planned 1% cut in corporation tax.
Report author Mat Lawrence told HuffPostUK: "The recent global interest in Thomas Piketty's book Capital in the twenty first century underpins how deep imbalances in economic power undermine not just the vitality of our economy but also the health of our democracy.
"These reforms are not idle utopianism: there is clear evidence from the UK, USA and the EU that models of 'shared capitalism' that allow all workers to share in the rewards of collectively created success are good for company performance and employee wellbeing."
John Lewis is known for its profit-sharing model, as employees recently celebrated having a share in the 15% profits it made last year. The annual profit bonus is shared equally between every John Lewis employee.
Staff at the department store are also considerably more satisfied than at rival firms, according to the job site Glassdoor. Compared to 15 other UK household names in the sector, including Debenhams and Morrisons, John Lewis received the highest satisfaction rating of 4.1 (very satisfied).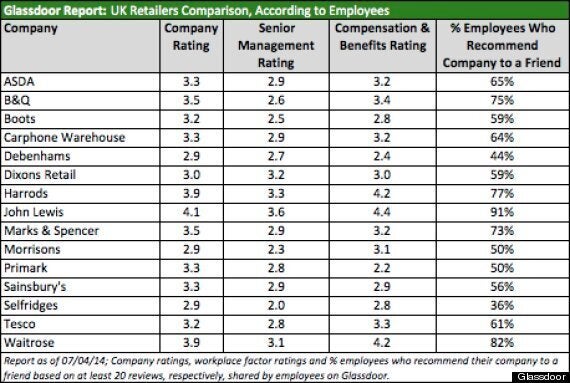 John Lewis CEO Charlie Mayfield had an approval rating of 97%, which is much higher that the average of 69%.
The IPPR think-tank suggested a raft of other measures to give staff a say in the running of the company, including a "working life forum" for companies with over 100 employees.
"The Coalition government's economic strategy currently lacks the direction and policies needed to rebalance the economy and disperse unjustified concentrations of economic power. Confused about the market and hostile to the state, it will struggle to link rising productivity to increased household prosperity. An alternative strategy is needed to drive all parts of the UK economy towards high-productivity, high-pay models," said Lawrence, a report co-author.
"The central task is, therefore, to create institutions that can ensure all workers have a share and a say in their work, as well as a stake in the wider economic success of their organisation."
It also called for the government to use proceeds from selling the taxpayers' stake in the Royal Bank of Scotland and Lloyds to provide capital for employee-owned, mutual, co-operative and other partnership-based businesses.
Related