Education Secretary Michael Gove and Lib Dem schools minister David Laws have presented a united front in relation to free school meals.
The show of unity comes following reports of serious official concerns about the scheme within Whitehall.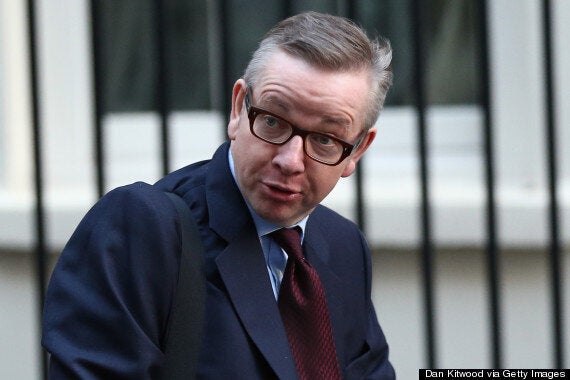 Education Secretary Michael Gove says he does not oppose free school meals for infant school children
Deputy Prime Minister Nick Clegg has acknowledged that not all schools were ready to implement the policy but asserted they would be by the start of the new term in September.
In the article, Gove and Laws said the "latest breathless headlines" suggest that the two of them could be expected to be "crouched under our desks like the last survivors in a Bruce Willis movie, only popping out occasionally to blast each other with shotguns".
In expressing cross-party support for the policy, they describe it as the "rarest of political treasures".
They said the results of pilot schemes were "impressive", singling out improvements in academic achievement.
The duo said free school meals "did more to improve literacy levels than the nationwide introduction of a compulsory 'literacy hour' in 1998".
They accept that there will be "challenges", that some schools will find it easier than others to expand catering services, but said the "overwhelming majority" appear to be on track, adding: "We are confident the policy will be delivered on time and on budget."
Prime Minister David Cameron was forced to intervene in the damaging row between Tory and Liberal Democrat ministers over the coalition's education policy, with the free school meals issue one of the battlegrounds between allies of Gove and Clegg.
Clegg told The World at One earlier this week: ''This is a policy I think is going to make a dramatic difference. I'm incredibly positive about it, I think people are going to look back on this and see it as a real crowning achievement of this Government.''
He added: ''Already the vast majority of schools across the school system are telling us that they are ready to do it.''
But he acknowledged that some schools need ''particular help'' and some ''by definition are not currently ready for something for which they don't need to be finally ready until September''.
Responding to the ''red'' rating he said: ''It is quite normal in Whitehall for people to constantly review the state of readiness of a policy. But let's be really clear, it is mid-May, this is going to happen in September.
''It will happen in September, it is fully funded, we have even gone further than that, we have legislated for it to make sure it is really there to stay.''
A Department for Education spokeswoman would not comment on the leaked risk assessment but added: ''The overwhelming majority of schools are already on track to deliver this policy in September and we are confident the policy will be delivered on time and on budget.
''Universal free school meals have already been shown to work in the pilot schemes run by the Department for Education and Department of Health in 2009.
Indeed, schools have had longer to prepare for the introduction of universal free school meals this September than schools in those pilot areas had in 2009.
''Schools are receiving a huge amount of support to provide free school meals. We are providing £150 million to improve kitchens and dining facilities, as well as an additional £22.5 million specifically to help smaller schools to provide these meals.''
Popular in the Community