Footage has emerged apparently showing Turkish Prime Minister Recep Tayyip Erdoğan getting into scuffle in a crowd of protesters in the mining disaster-struck town of Soma.
As sorrow turns to fury in the wake of Turkey's worst mining disaster furious protests have erupted.
The video shows people booing and whistling at Erdoğan, who then appears to single out one protester, telling him to "Come and boo me here to my face," Hurriyet Daily News reports.
It is not clear from the footage whether Erdoğan's fist comes into contact with the protester, but according to a report in daily Evrensel, Erdoğan allegedly entered the supermarket and targeted a 15- or 16-year-old girl, punching her repeatedly after she shouted at him, "What is the murderer of my father doing here?"
"The girl was saying, 'don't do it, brother.' I've never seen anything like this. I was horrified. How can a prime minister do something like this? What is this fury?" said an eyewitness who only identified herself as GK out of fear of repercussions to her fiancé, who is a civil servant, Hurriyet reported.
Violent anti-government protests have broken out following Erdoğan's statement dismissing the mine disaster as "typical."
The latest video surfaced only hours after a shocking photograph emerged appearing to show Erdoğan's adviser, Yusuf Yerkel, kicking a mourner in Soma.
The distressing image has sent shockwaves across the nation.
It has not been officially confirmed whether is Erdogan aide and ex-SOAS graduate student Yusuf Yerkel, but the picture has been shared thousands of time on Facebook and Twitter.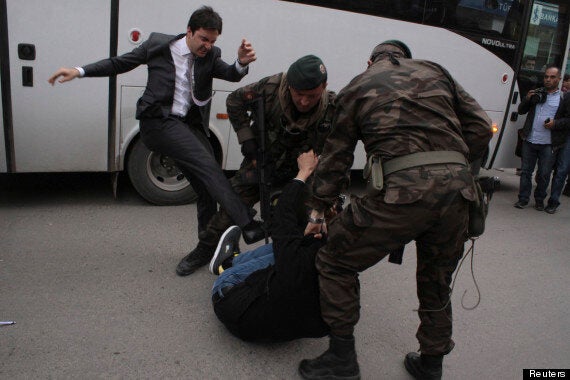 The photo appears to show Erdogan aide Yusuf Yerkel kicking a protester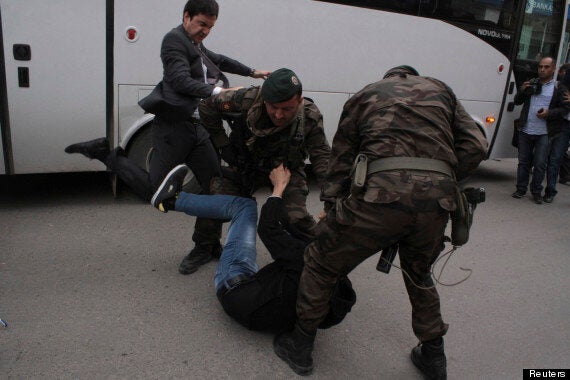 The aide has reportedly defended his actions against the protester
Related