Sorrow has turned to fury in the wake of Turkey's worst mining disaster in its history, with the death toll after the tragedy now at 274, with a further 150 workers trapped underground breathing the mine's toxic gas.
Violent anti-government protests have broken out in the town of Soma where an explosion caused a pit to collapsem, and viral photos have emerged of what appears to be an aide to the Prime Minister kicking a demonstrator.
Anger at the government's failure to prevent the disaster also incited protesters in Istanbul and the capital, Ankara, many of whom painted their hands and faces with brown and black paint to look like miners. Mass miners strikes are also taking place across the country's pits.
One photo in particular has sent shockwaves across the nation, a picture of a man closely resembling an assistant to Turkish Prime Minister Recep Tayyip Erdogan furiously kicking a protester who is wrestling with two military men.
It's not been officially confirmed whether is Erdogan aide and ex-SOAS graduate student Yusuf Yerkel, but the picture has been shared thousands of time on Facebook and Twitter.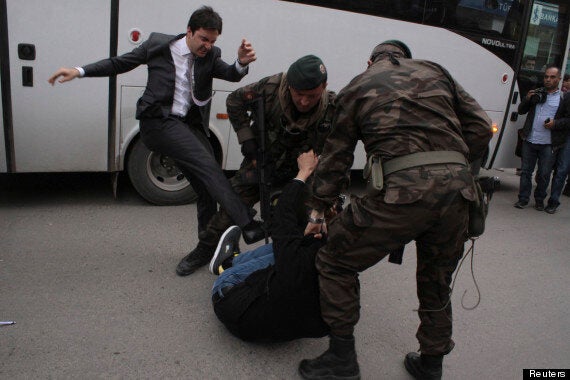 The photo appears to show Erdogan aide Yusuf Yerkel kicking a protester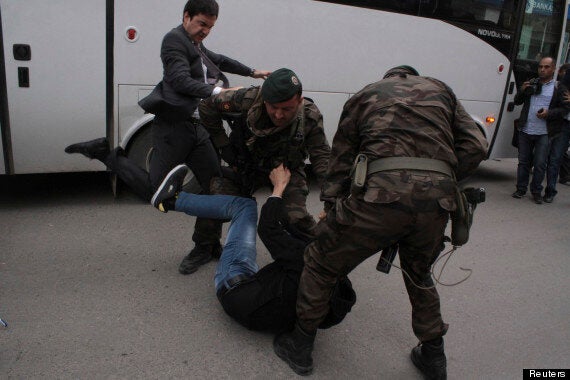 The aide has reportedly defended his actions against the protester
"He assaulted me and insulted me, as well as to the prime minister. Should I keep silent?" he was quoted as saying.
Erdogan was heckled during a speech about the disaster, with cries of "Murderer!". Chased by protesters, Erdogan was forced to seek refuge in a nearby supermarket.
Hundreds demonstrated outside the headquarters of mine owner Soma Komur Isletmeleri A.S. Police in Istanbul, with police tear gassing protesters who tried to march on Taksim Square.
Police halted a group of angry activists marching on the energy ministry in Ankara.
Foreign Secretary William Hague will hold talks with his Turkish counterpart in London today, where he is attending international talks on Syria.
Hague said: ''I was deeply saddened to hear the news of the mining disaster in Soma, Turkey.
''My thoughts and sympathies are with all those who are missing, their families, and also the rescue workers working tirelessly to search for survivors of this tragedy.
''The UK stands ready to support Turkey should assistance be required, and I shall discuss this with Turkish foreign minister (Ahmet) Davutoglu at tomorrow's London meeting on Syria.''